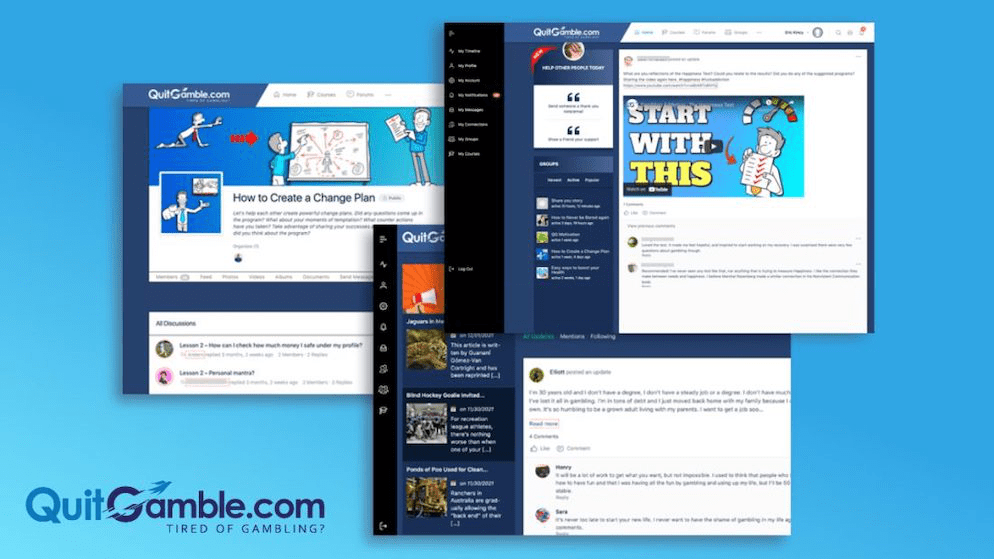 You don't have to be an expert to know that any form of addiction has the potential to become highly detrimental and harmful if you lose control. Especially when it comes to online gambling, where you have access to literally a ton of gambling material in various shapes and sizes. However, lucky for us, there are organizations such as QuitGamble that are dedicated to helping players with gambling addiction completely change their lives for the better.
One of the main reasons why we are so excited to promote QuitGamble is their unmatched portfolio that offers literally a plethora of tools for helping individuals with gambling addiction to stop gambling. Think of QuitGamble like this – instead of paying thousands for therapies and shrinks, you can easily access and use all of their tools and features 24/7 without paying a dime. Yes, QuitGamble is 100% free of charge, being that their ultimate goal is to help the people, not profit from them.
In order to ensure that players get a healthy dose of options regardless of the type of problem or the magnitude of their gambling addiction, QuitGamble gives its visitors access to some truly life-saving tools and features. Everything from online courses to access to a community of individuals who also struggle with gambling addiction, QuitGamble is simply built to help anyone that is willing to improve his or her gambling habits. The list includes:
Happiness Test – take the Happiness Test to learn why it is so hard to stop gambling and what you need to work on to succeed.
Help Yourself – help yourself by helping others via built-in features that encourage mutual collaboration.
Awareness Guides – get access to animated video guides and obtain unique insights from the gambling industry.
Online Community – join the QuitGamble social community and find support, chat, make new friends, socialize, and ask questions.
Video Courses – challenge yourself by watching engaging and fun videos, challenges, and exercises.
Addiction Curve – visualize the addiction curve and learn the connection between the risks of gambling and why you gamble.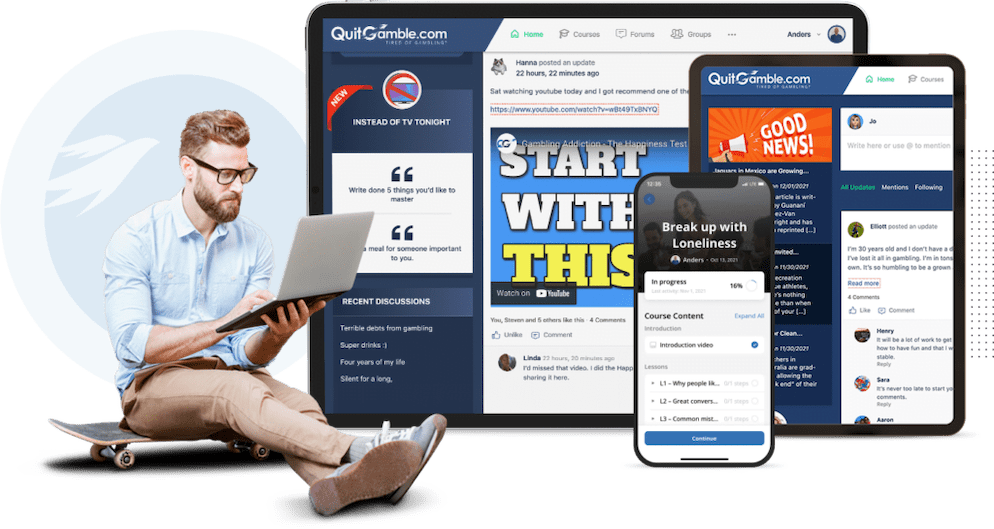 Simply put, you can view QuitGamble as a full-blown social media platform that is dedicated strictly to helping individuals with gambling addiction. And this is quite a big deal if you ask us, being that you can use QuitGamble with a dual purpose – as a responsible gambling organization that can help you improve your gambling habits, and as a community where you can communicate with both fellow players and professionally trained experts on gambling responsibly.
Gamblers Connect is thrilled for the opportunity to promote an organization such as QuitGamble simply because we share the same core values of caring for the well-being of the players. Gambling responsibly and practicing safer play is quintessential in the world of gambling, which is why we are grateful for operators such as QuitGamble who are putting paramount effort into nurturing a responsible gambling haven free of charge, and stacked with a ton of life-saving features and tools.