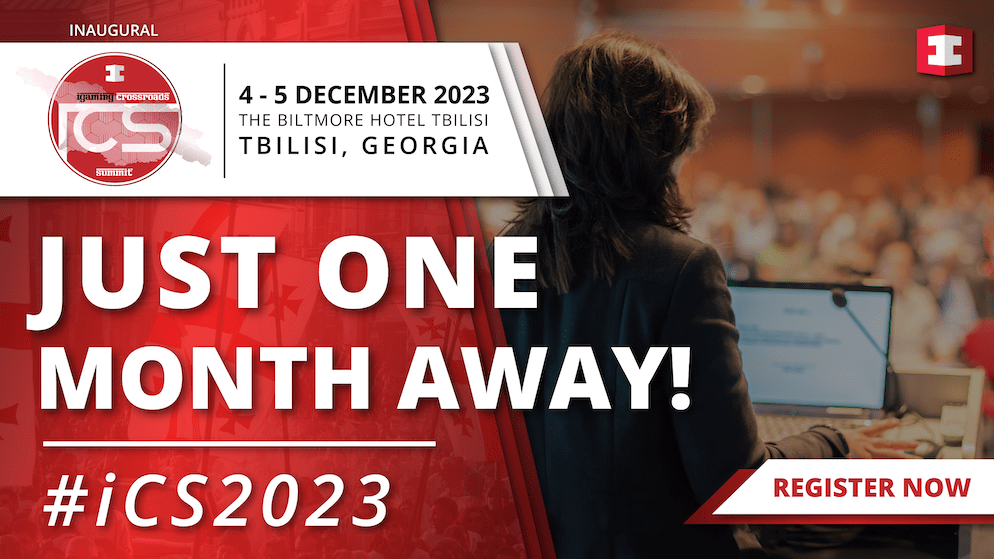 iGaming Crossroads Summit 2023
With an admirable 7.6% annual growth rate and $360.50 per user average revenue in online casinos, the iGaming industry in Georgia is expanding at such a fast pace that the iGaming Crossroads Summit 2023 couldn't have come at a better time!
All of this, paired with the advantageous business environment of Georgia, which is known as a booming tech industry with a strategic location that can cater to the needs of both western and eastern markets, makes it an emerging and promising hotspot for new and upcoming entrants.
Without any doubt whatsoever, the expanding Georgian gaming market offers a very promising and highly supportive atmosphere for investment and growth in the industry, which makes the perfect gateway to explore career-changing prospects, which is why attending iGaming Crossroads Summit 2023 is a must.
Dive Into The Hottest Topics
Explore a plethora of captivating topics from the iGaming realm featuring strategies and insights from leading gaming specialists in a plethora of different fields.
Day One: Keynote Address
Head of Administration of the Georgian Gambling Association – George Mamulaishvili – "Georgian Gambling Regulations: What's New, What's Next, and How It Impacts Businesses"
Panel Discussion
Marketing & Sales Director at SMH Global – Baki Lortkipanidze
PhD & Head of Business Development at Orbital Gaming – Valerian Chanchibadze
Chief Product Officer & Co-founder at Promofy.app – Vakhtang Mdivani
Head of Product Management at Azerlotereya – Göktuğ Boğaç ÖGEL – "Ensuring Longevity: Sustaining Your Brand in the Gaming Sector"
Presentations
Head of Product Management at Azerlotereya – Göktuğ Boğaç ÖGEL -"Strategies for iGaming Companies in the AI-Driven Era"
Day Two: Keynote Address
Co-founder & CBDO at Huntli.io – Lev Bass -"Compliance and Proactive Risk Management in Online Betting and Gambling"
Product Data Scientist & Chief Product Officer at MSc – Goga Surguladze – "Leveraging the Power of AI and Data Science in iGaming"
Panel Discussions
CEO & Founder of Arena Games – Mikheil Didebulidze
Chief Scientist at Blockcontrol – Professor Doctor Dean Rakic
CEO & Co-Founder of Citypay.io – Eralp Hatipoglu
Co-Founder & CBDO of Huntli.io – Lev Bass -"Shaping the Future of Crypto in the iGaming Industry: Key Trends to Watch"
Listen to these keynote speakers and many other industry experts via informative and educational presentations and panel discussions at the much-anticipated iCS 2023!
Meet Sponsors, Exhibitors, and Strategic Partners!
The upcoming iGaming Crossroads Summit 2023 is possible thanks to the support of leading brands and companies. More specifically, NascentEdge, Elite Executive, and NovaMotus Consultancy are the strategic partners of the event and are responsible for enhancing the global presence of the event.
In addition, Exhibitors and Sponsors such as EI Networking, Aviatrix, and many others are here to further improve and boost this upcoming event. Needless to say, market leaders such as these are key to the success of the summit, which is why their massive contributions are greatly applauded.
Purchase Your Tickets to Business Growth in The Booming Eurasian iGaming
You simply cannot afford to miss out on this amazing opportunity to see the state-of-the-art innovation of the rising Georgian iGaming market at the upcoming iCS 2023! It is definitely a chance to personally witness the future of iGaming and let yourself immerse in a world of unlimited opportunities. And all of this is in the heart of the beautiful capital of Georgia, Tbilisi.
However, you definitely need to hurry up and buy your pass since there is just one month until the start of one the most fantastic igaming events ever! So, if you wish to be a part of this revolutionary event and join the esteemed crowd of innovators and leaders, make sure you purchase your ticket as soon as possible!