Winter is currently upon us, and with more than two months until March and the official start of Spring, we are nowhere near the end. And while some are all about experiencing the winter as much as possible by going on ski trips and enjoying the snow, the rest are eagerly waiting for the cold season to be over and for the flowers to bloom once again. However, this doesn't mean that those who stay at home shouldn't have fun. For this reason, we decided to comprise a list of 11 of the best winter online slots that all iGaming enthusiasts definitely shouldn't miss.
Regardless of whether you are a fan of this slot genre, the winter slots are all about authenticity and drawing you into the magic of this special season. Yet, this doesn't necessarily mean that winter slots are all about Christmas, per se. In fact, there are quite a few slots on this list that are not even remotely connected to Christmas, and they still manage to bring the excitement and the fun just as the planet's biggest holiday. So, get ready for a variety of various online slots that are all about commemorating the winter and all of its glory, the winter online slots.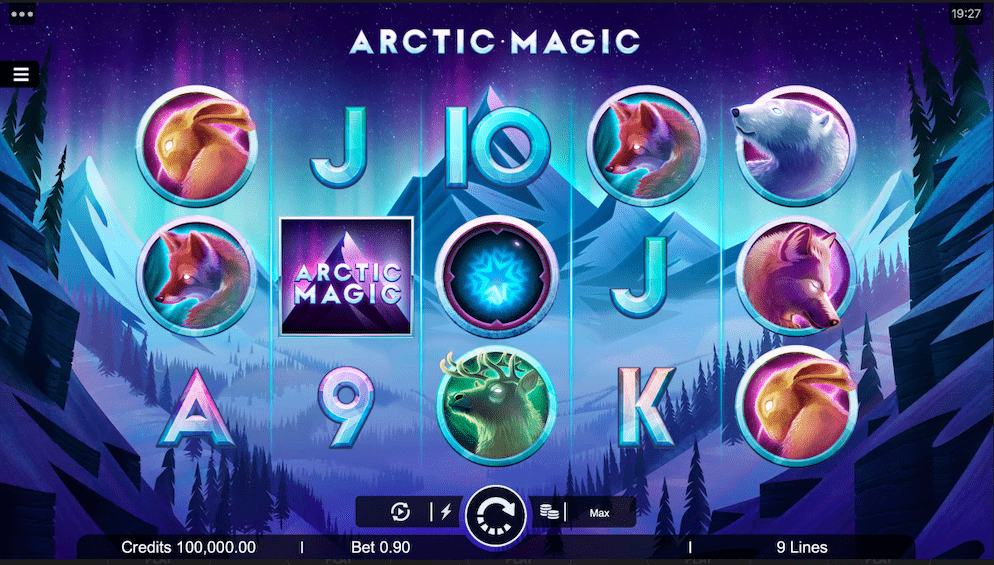 Arctic Magic
Arctic Magic by Games Global is a visually captivating, minimalist online slot that comes with beautiful graphics and unique symbols. The gameplay is set in the footer of a beautiful mountain located in the Arctic, with the mesmerizing Aurora Borealis ( the Northern Lights), colouring the night sky. It comes with a respectable 3333 x your stake win potential, and just enough bonus features to have a good time. And with a slightly above RTP potential per the industry standards, you are in for a pretty nice winter adventure.
Provider: Games Global
Max Win: x3333
Bonus Features: Wilds, Scatters, Free Spins, Free Spins Multiplier
RTP: 96.1%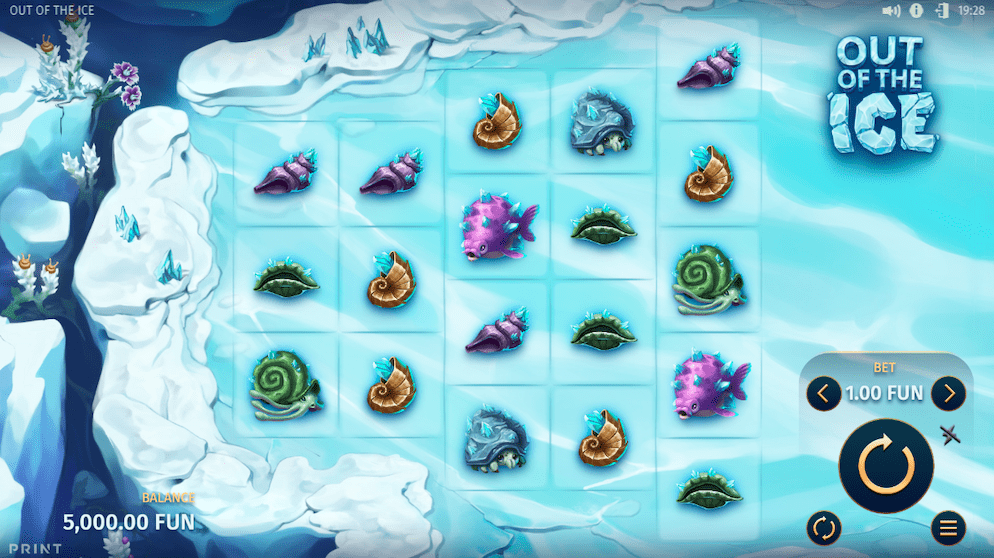 Out of The Ice
You will immediately notice that Out of the Ice is not your everyday online slot. That is because it starts off with a 3-3-4-4-5 layout and 76 ways to win, which can increase up to a 5-5 layout and a hefty 259 ways to win thanks to the respins. Moreover, the game comes with breathtaking graphics, a ton of additional bonus features, and a unique storyline that is set on a remote iceberg. And should you break the ice, then you will even meet mythological creatures Merfolk that are a central part of the story. It comes with a nice 6000 x your stake win potential and a below-average 94%.
Provider: Print Studios
Max Win: x6000
Bonus Features: Free Spins, Additional Free Spins, Free Spins Mode, Avalanche Wins, Multipliers, Random Multipliers, Change Of Reels, Respin Lock Win, Respins, Wilds, Sticky Wilds, RTP Range
RTP: 94%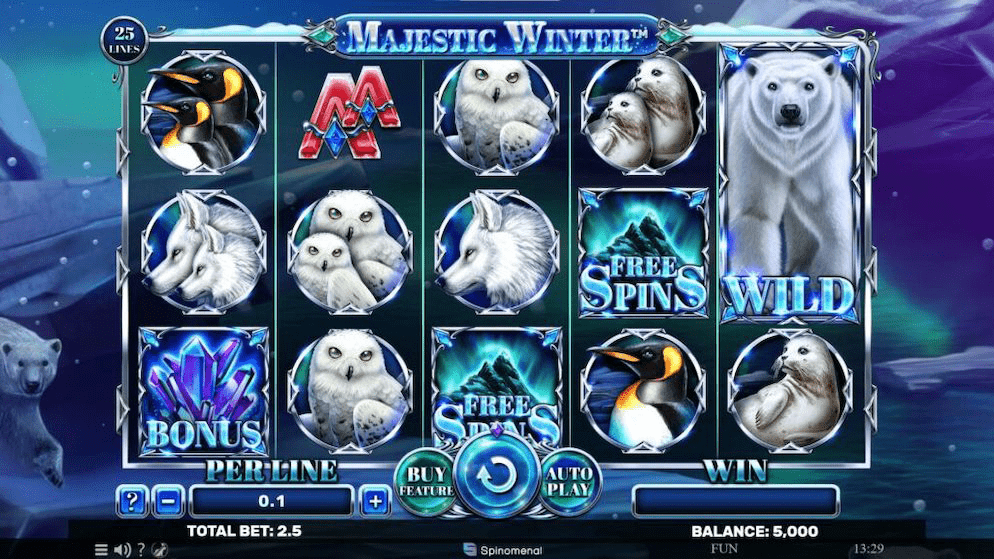 We know, we know, the Majestic Winter – Avalanche is the latest release of the series, and with that presumably the slot we should have been reviewing. But hear us out. Not only does Majestic Winter is the inspiration for Majestic Winter – Avalanche, but it also far more rewarding and player friendly. Sure, the prequel may have the Gonzo mechanics, but that is pretty much it. Majestic Winter the original has a higher RTP, basically the same features, a cheats tool, and double the max win potential of Avalanche of a hefty 10.000 x your stake! If we take all of this into consideration, then it is quite obvious that Majestic Winter the original is a clear winner.
Provider: Spinomenal
Max Win: x10.000
Bonus Features: Bonus Game, Additive Symbols, Bonus Symbols, Free Spins, Additional Free Spins, Cheats Tool, Random Wilds, Additional Wilds, Wilds, Scatters, Symbol Collection,
RTP: 94.04%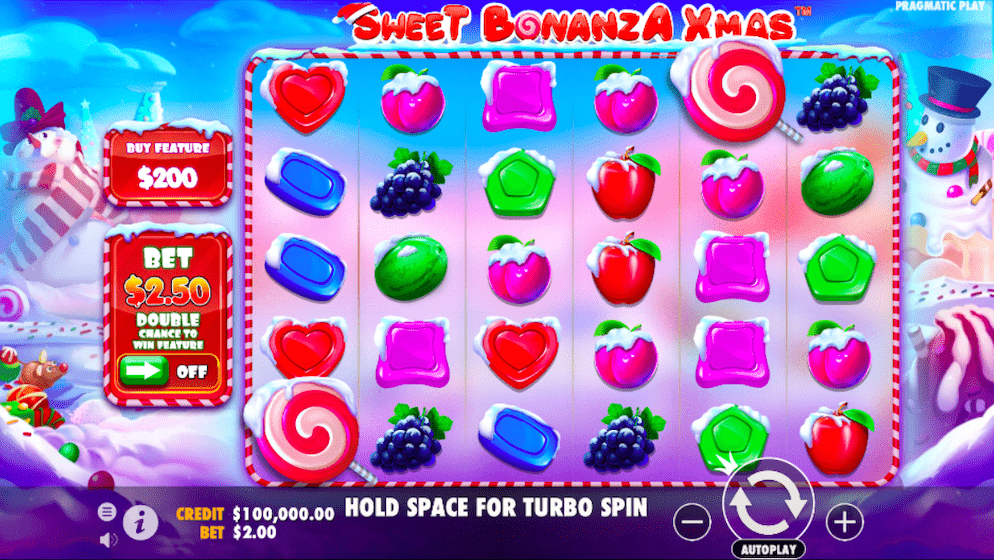 Well, all it takes is one look at the provider who brought us this slot (Pragmatic Play), and the blueprint for the game and you immediately realize why we had to include this slot in the list of best winter slots. Inspired by the mega-popular, all-time classic Sweet Bonanza, when Pragmatic Play produced this slot they created a literal feast for the eyes. Sweet Bonanza Xmas is a visually captivating online slot that comes with perfectly smooth gameplay, and the always favourite Ante Bet, or buy feature.
Yet, Pragmatic didn't stop there! This winter slot comes with a staggering 21.175 x your stake win potential, a bunch of exciting bonus features, and an above-average RTP of more than 96%! Meaning, you definitely get one of the best winter slots ever, by one of the best in the business, ever.
Provider: Pragmatic Play
Max Win: x21.175
Bonus Features: Avalanche Wins, Free Spins, Pay Anywhere, Scatters, Random Multiplier, Buy Feature
RTP: 96.48%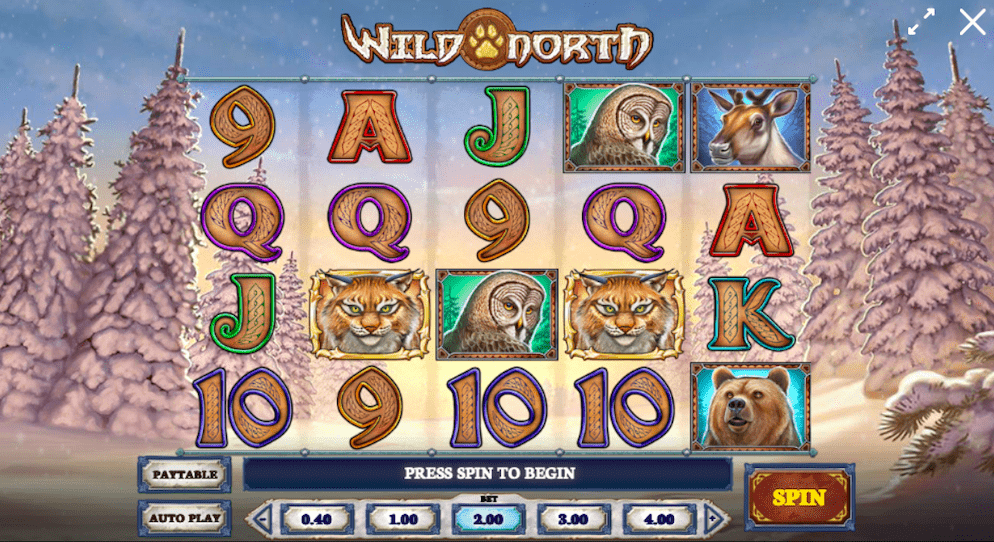 Despite being released back in 2015, Wild North is definitely one of the best titles by the behemoth Play'n GO to date, and certainly one of the best winter slots you can find. Aside from the fact that it comes with a list of captivating bonus features such as a bonus game, bonus game: objects pick, mega symbol 3×3 and much more, it is the gameplay and the mechanics that matter the most. You simply get a nice feeling when you play this slot, without being able to explain why that is the case, and this is something that cannot be said for many of the modern online slots. And with a solid 2500 x your stake win potential, and the awesome feature award for no-win, you are set for a winter adventure of a lifetime in the form of an all-time classic slot experience.
Provider: Play'n GO
Max Win: x2500
Bonus Features: Award for no-win, Free Spins, Free Spins Multiplier, Additional Free Spins, Scatters, Wilds, Mega Symbol 3×3, Bonus Game, Bonus Game: Objects Pick
RTP: 94.57%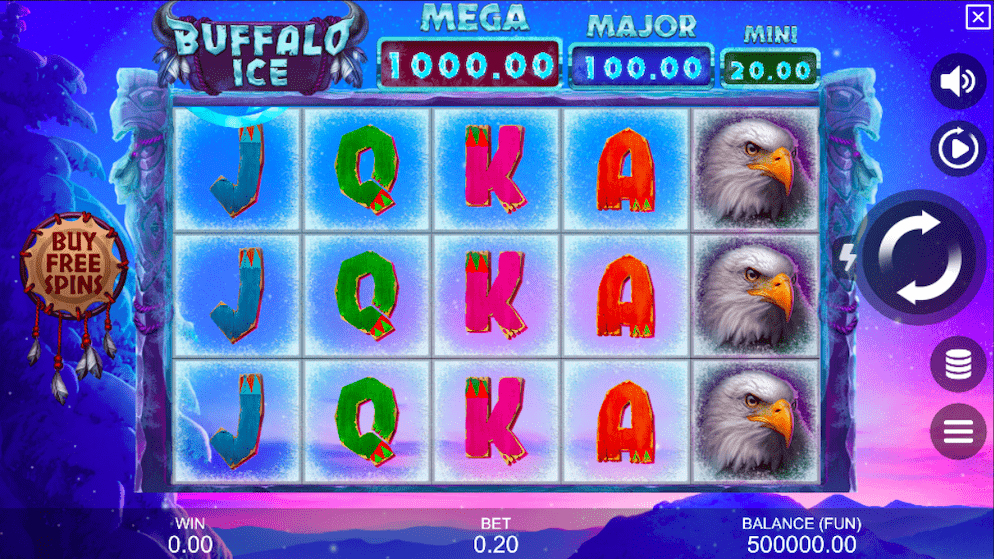 Brought to us by one of the fastest-rising stars in the world of iGaming, Gamzix, Buffalo Ice has everything that you need in order to have excellent winter fun. For one, it comes with a solid 5200 x your stake max win potential and an above-average RTP that is always a pleasure to see. Moreover, it has quite a few amazing bonus features such as the remove symbols, the buy feature, the lock it link, as well as the exciting stack feature. Yet the best thing by far is the 3 different jackpots, the Mini (x100), the Major (x500), and the Mega (x5000), which consequently make Buffalo Ice an all-around package that is both visually captivating and absolutely rewarding!
Provider: Gamzix
Max Win: x5200
Bonus Features: 3 Jackpots, Buy Feature, Free Spins, Bonus Symbols, Hold and Spin, Remove Symbols, Scatters, Lock it Link, Stack Feature
RTP: 96.3%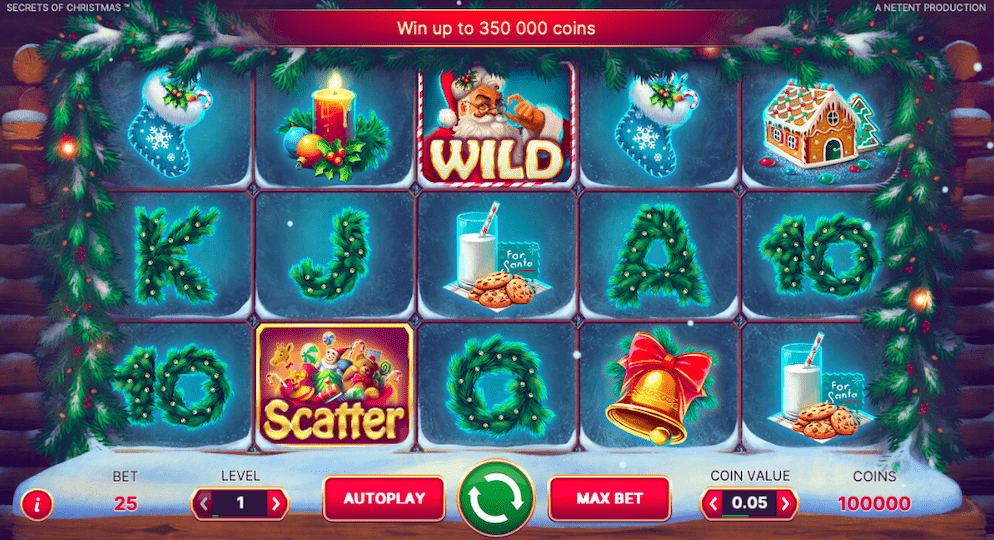 Now, we finally reach a winter slot that is inspired by Christmas and believe us when we say, this one is yet another masterpiece. Created by one of the all-time greats, NetEnt, Christmas Secrets is all about bringing out the best that online slot gambling has to offer. This includes amazing graphics that will take you back to your childhood with a real nostalgic feeling and mesmerizing audio that is as soothing and as relaxing as possible. In addition, Christmas Secrets is one of the most compatible games for mobile gaming out there, and in contrast to the soothing visuals and audio, it is a highly engaging, action-packed online slot.
It even comes with a well-above-average RTP of 96.72%, and real bonuses and features that are worthy of Santa himself! In other words, this is definitely one of the best winter/Christmas online slots ever created, period.
Provider: NetEnt
Max Win: Up To 356,250 coins
Bonus Features: Free Spins, Bonus Game, Multiplier, Wilds, Scatters
RTP: 96.72%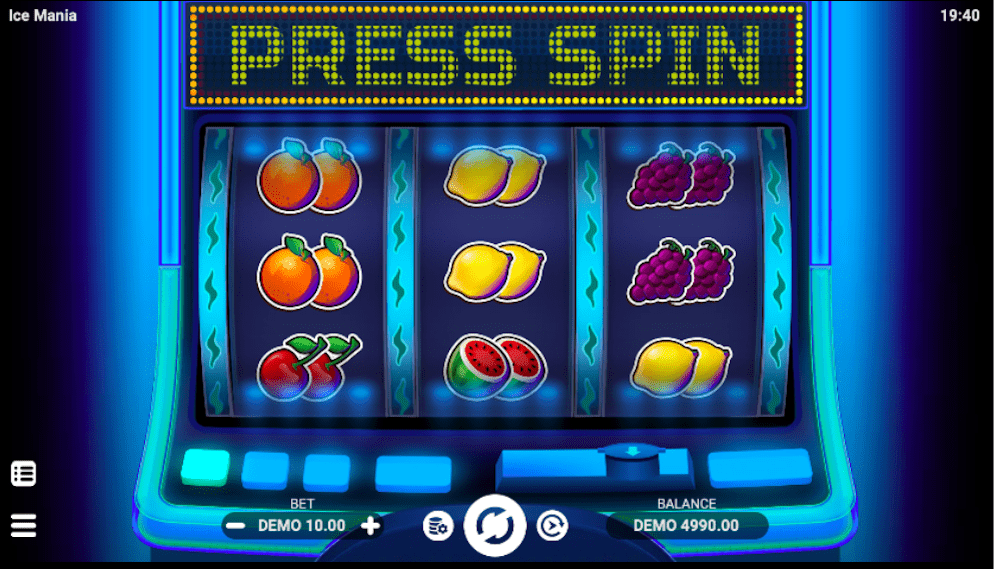 Simply put, Ice Mania is as authentic a slot experience as they come. Produced by yet another giant of an iGaming studio, Evoplay, this is a classic slot experience that will leave you stunned by the very first spin. And the beauty of it all, believe it or not, lies in its simplicity. Being a classic and authentic slot experience reminiscent of actual casino gaming, Ice Mania doesn't have any of the standard features that are part of the video slots. However, it comes with a respectable 520 x your stake win potential, fantastic graphics, and provides a unique experience that is simply unforgettable.
Provider: Evoplay
Max Win: x520
Bonus Features: Classic Slot
RTP: 96.09%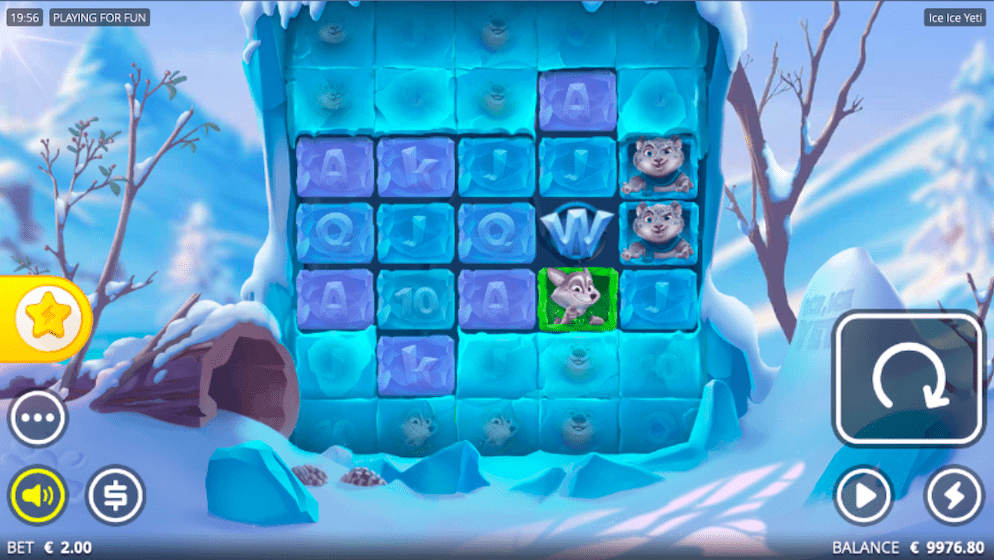 With Disney-like artwork and visuals, Ice Ice Yeti is one winter slot that definitely has the potential to win over even those who don't like winter, or winter slots, for that matter. But don't let the fairytale looks and Disney vibe fool you, since Nolimit City created a title that has the potential to make you some serious money. With a 5000 x your stake win potential, an above-average RTP of 96.16%, and 16.800 win ways, this is a serious heavy-hitter that is as much rewarding as it is cute. It comes with the amazing additional tiles feature, where you can unlock up to 20 tiles, both regular respins and wild respins, as well as the highly-rewarding wild spins. Add the fearsome Yeti and its forest friends, and you get a true winter adventure that you won't forget easily.
Provider: Nolimit City
Max Win: x5000
Bonus Features: Additional Tiles (Up To 20), Respins, Wild Spins, Wilds, Sticky Wilds, Respin Wilds,
RTP: 96.16%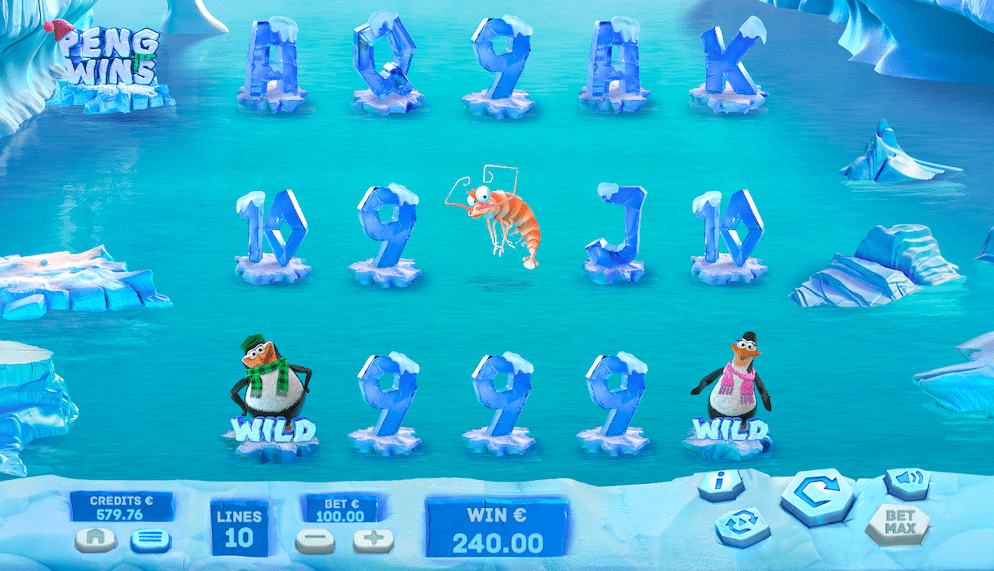 PengWins by Tom Horn Gaming is all about spreading positive vibes and providing a unique slot experience. The reason for this lies in the brilliant storyline set in Antarctica that follows a family of penguins, which consequently are both the main protagonists and the wild symbols. The goal here is to reunite the Kidsest penguin wilds with the rest of the family, and once you do that, the reunion with the family will rock the reels and release true mega wins. Moreover, in addition to the unique gameplay and top-tier graphics and visuals, Tom Horn stacked this slot with a solid 1200 x your stake win potential. The only thing that we can point out is the 92% RTP, however, given the overall quality and features of PengWins, we believe it deserves a place among the best winter slots.
Provider: Tom Horn Gaming
Max Win: x1200
Bonus Features: Respins, Wilds, Expanding Symbols, Mega Symbol 3×3, Shifting Wilds
RTP: 92.03%
Bonus Slot: Winter Wonder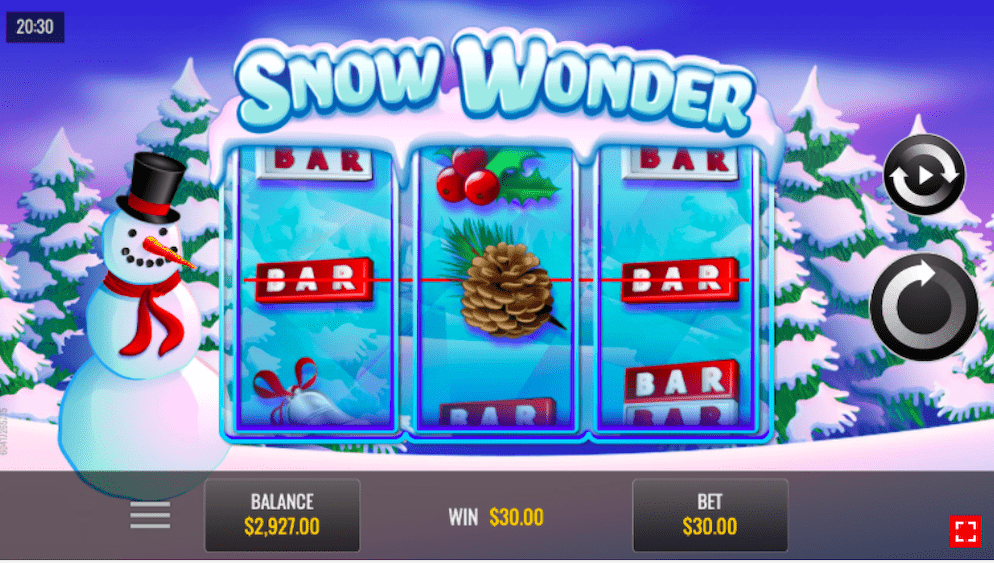 Snow Wonder
When we first got the idea to create a list of the best winter slots, we initially wanted to create a top 10 list. However, once we thought of Winter Wonder, we just had to include it in our list as one of the best winter online slots we have ever played. The reason for this is that this is one online slot that is all about the authentic casino experience, similar to Ice Mania, only coming with winter skin. It is straightforward, engaging, and as simple as they come. And while it comes with a max bet of just $30, believe us when we say that it drops wins more frequently than Santa himself. And with a max win of an insane 75.000 x your stake, that $30 max bet doesn't mean a thing!
Provider: Rival Gaming
Max Win: x75.000
Bonus Features: Scatters
RTP: 95%