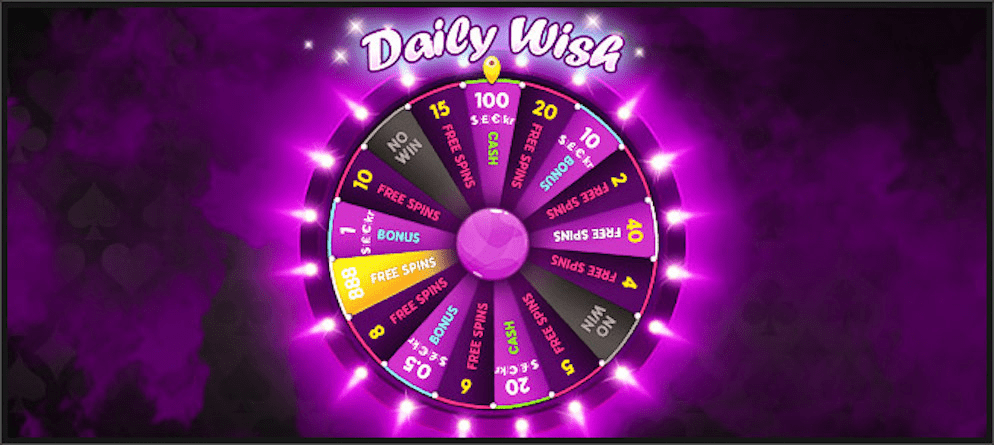 Get ready for one of the most engaging and rewarding casino bonus promotions ever, the Daily Wish! Brought to us by one of the best and most popular UK online casino operators in the industry, the giant 888, Daily Wish is an excellent way to earn various prizes simply by having an account and depositing at least once in the past 30 days!
And believe us when we say, you will have a blast with this one! Ranging from free spins to cash prizes and specialized bonuses, the Daily Wish wheel is all about handing out rewards without any particular requirements.
All you need to do in order to spin the wheel is log in to your account, and look on the right side of the screen for the Daily Wish wheel. Then, simply tap on the screen to open the game launcher and click on the Free Daily Wish wheel. Once you complete these simple steps, the wheel will appear, and all you need to do is click on the "Spin" button, and await to see your prize.
There are 4 possible outcomes for the Daily Wish wheel, and those are:
Winning a Cash Prize that will be credited to your balance
Winning Free Spins (with the possibility to win up to 888 free spins) that you can play on any of the exclusive 888 games
Winning a Bonus Prize that you can play on selected games
Not winning anything
Yet, even if you don't win a prize, do not be discouraged! The Daily Wish wheel is available until December 31st, and the best part about this promotion is that you can spin the wheel once per day! That means that even if you are unlucky today, the UK 888 casino gives you a whole year to turn the tides in your favour and win one of the prizes!
However, the promotion doesn't end here! If you happen to deposit $20 or more during the day you want to spin the Daily Wish wheel, you may also see a second even more rewarding wheel, the Daily Mega Wish. Just remember, the second wheel can only be activated if you made a deposit of a minimum of $20 during the day,
Simply put, the UK giant of an online casino that is 888 gives you an amazing opportunity to claim daily rewards by literally just spinning a wheel! Not only that, but they also made sure to make this promo available until the end of the year, and even more amazing, added a second wheel! In other words, this is one of the best daily promotions in the industry!