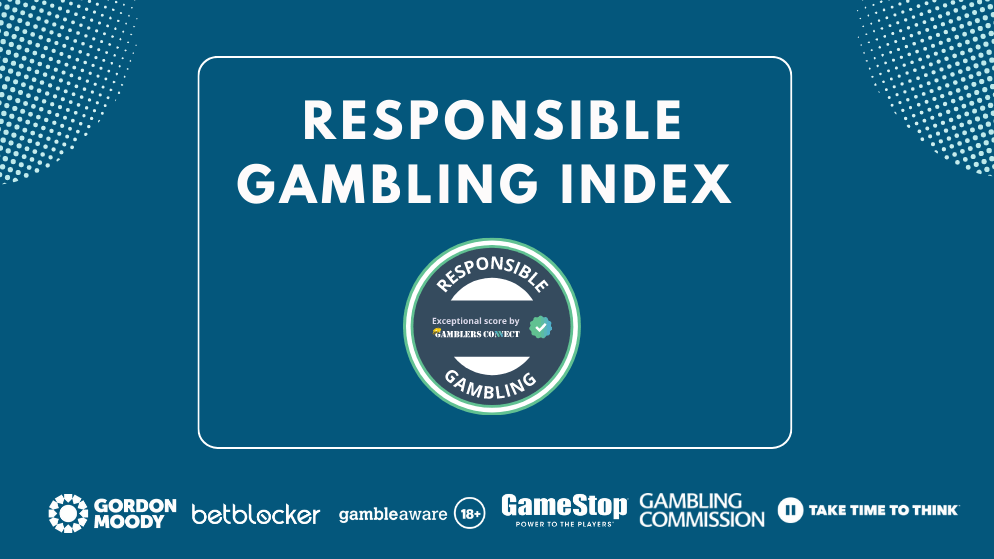 It is no secret that gambling is one of the most exciting and captivating forms of entertainment that you can experience. Even more so if we take into account that you get to play and earn money at the same time, something that no other activity is able to match. Especially when it comes to the realm of online gambling, where you have literally an endless array of options, ranging from online slots to betting and casino games. However, it is also no secret that maintaining a healthy relationship with this activity and gambling responsibly is absolutely crucial in order to properly enjoy the art of gambling. And while it is true that there are online casinos that make it their priority to create a safe gambling environment for their customers, there are still many operators who neglect this crucial aspect and as such, fail to ensure a transparent gambling ecosystem.
Due to this, and being that Gamblers Connect is a fierce advocate for responsible gambling, we decided to take matters into our own hands and motivate online casinos to improve their safer play practices and policies. Meet the Responsible Gambling Index, our new revolutionary project that is meant to forever change the way that online casinos interact with their players and consequently inspire them to become better at creating a secure gambling haven that can truly help individuals with gambling addiction. Our goal with the Responsible Gambling Index is simple – evaluate all of the online casinos on our website, and grade them with a score based on our strict criteria. And this refers to literally every operator that you can find here at Gamblers Connect, regardless of the magnitude or the reputation of the casino.
Depending on how many points the casino will win, i.e. how much effort it puts into maintaining a responsible gambling environment, the operator will be judged and given one of the following grades: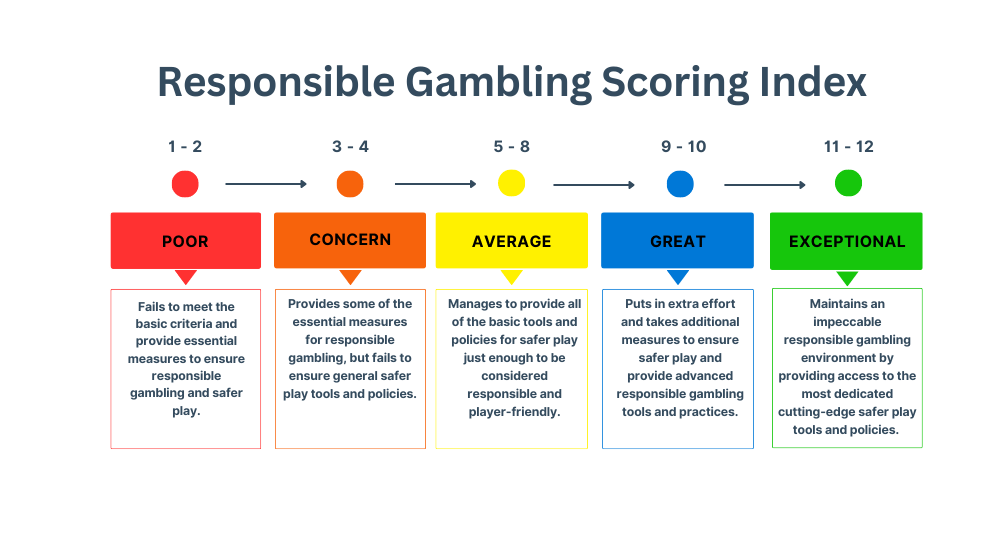 The grade of the operator depends on how many of the 12 responsible gambling points and features it manages to cover. With this in mind, these are the key points that we use to evaluate how responsibly conscious are the online casinos that we promote:
1. Reality Check
A pop-up is triggered at certain time intervals to remind players to take a break / stop playing.
2. Self-Exclusion
Allowing customers to put their account on temporary (reversible) hiatus.
3. Prevention of Underage Gambling
Checking the age of customers who appear to be, or are suspected of being underage/minors.
4. Responsible Gambling Policy
Responsible gambling is policies and programs designed to prevent and reduce potential harms associated with gambling.
5. Access Account History
Provide customers with easily accessible information about their current balances and facilities that enable them to review previous gambling and account transactions.
6. Ethical and Responsible Marketing
Operators should comply with the relevant regulatory advertising codes of practice which typically ensure that advertisements are factually correct and do not target underage or vulnerable gamblers, such as customers who have self-excluded themselves from gambling. It is also expected that operators should seek permission from the customer before engaging in direct marketing through the use of the customer's personal details.
7. Deposit Limits
Used for enforcing a limit on deposits.
8. Wagering Limits
Set limits on how much money the customer wishes to wager while playing.
9. Session Limits
Customers have the ability to set a Session Time Limit in addition to other limits offered by the iGaming Operator. It allows the customer to be in control of the time spent gambling and offers the option to activate Daily, Weekly and Monthly Time Limits.
10. Loss Limits
Set a limit on how much funds the customer can lose or transfer for a period of his choice
11. Self-Assessment
If a customer is concerned about his gambling or he suspects that he or she may be developing a gambling problem, he can take a Self-Assessment Test. The results will help him understand his gambling habits and assist him in addressing any potential gambling issues.
12. Budget Calculator
The budget calculator can be used to analyze spending habits and review how much of a customer's discretionary income he or she spends on gambling.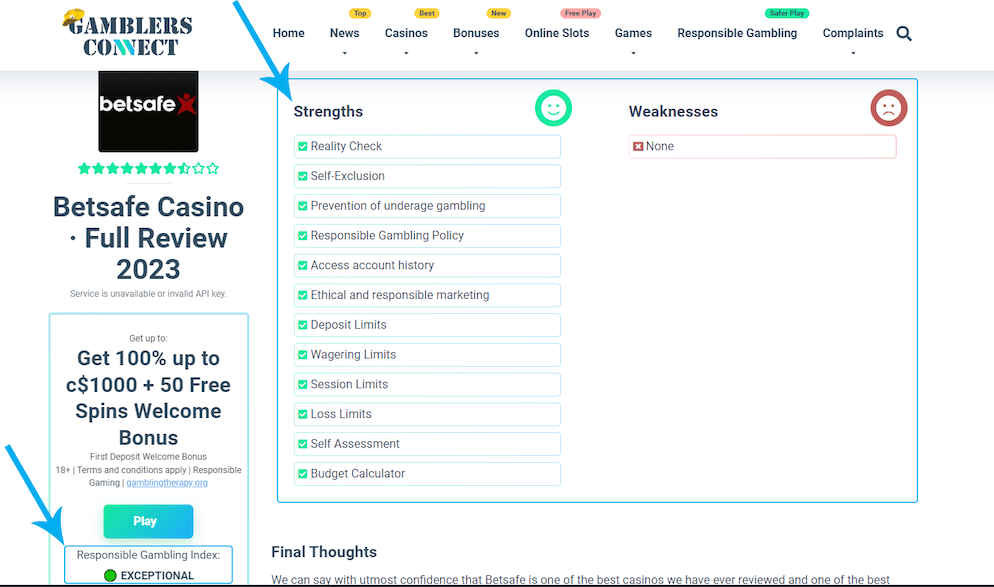 The only way that a casino can receive the Exceptional Grade is to offer at least 11 out of these 12 safety features. And while it may seem like this is an easy task at first, in essence, you will find that the number of casinos that actually received an exceptional grade is much lower than one might think. Regardless, the whole point of the Responsible Gambling Index is to inspire operators to re-evaluate their stance on responsible gambling, and consequently, improve their policies by integrating all of the safer play features that are essential in order for their players to have a 100% transparent and player-friendly gambling platform.
Once the casino receives the Exceptional Grade score, it will be proudly displayed in several different places in our review, namely below the overall grade of the casino, as well as inside the review itself. In addition to this, the Exceptional casinos will also get the Gamblers Connect badge for Exceptional awareness, which will stand as an indicator that the players are dealing with a casino that meets all of the requirements to be considered responsibly conscious.
With that being said, the first casino that received the honour to be evaluated is Betsafe. Boasting an impeccable Exceptional score, Betsafe is truly an example of an operator that manages to cover everything that we require in order to be considered extremely responsible and player friendly.
In light of this, we would like to inform you that all of the 120+ casinos that we endorse will be evaluated as late as the 10th of September.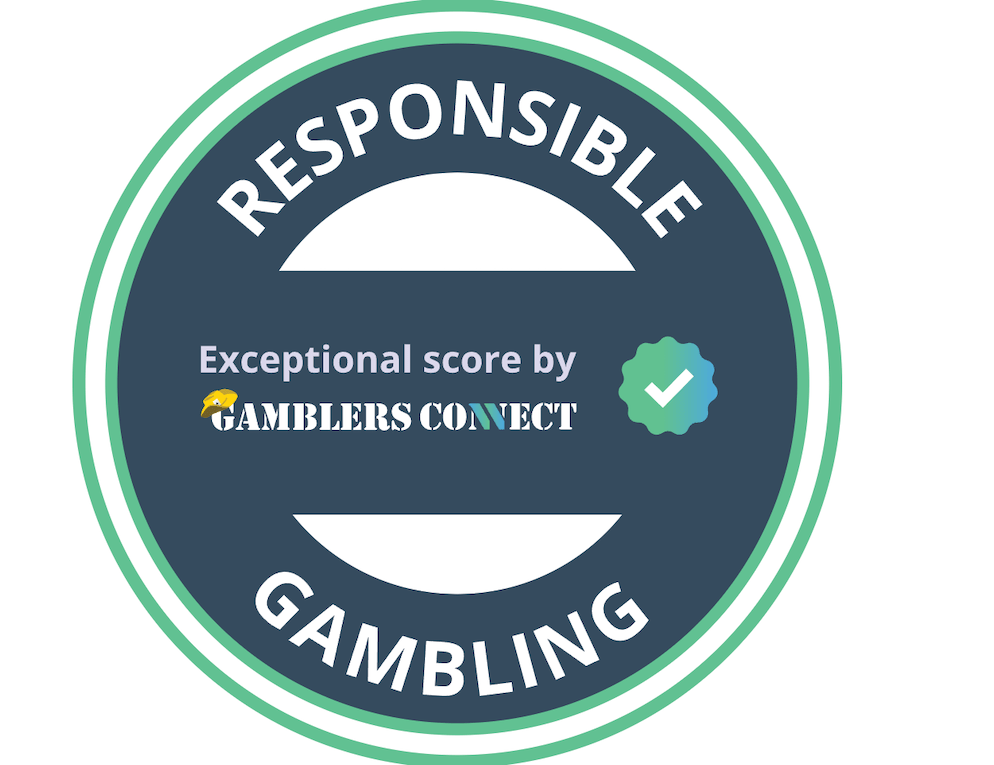 There are literally dozens of responsible gambling tools and safer play features out there, and it is up to the operator how well it will rank on our Responsible Gambling Index. It is literally in their hands, being that the more tools and features they have to offer, the better the score. Needless to say, we would love it if this inspires the operators to take the aspect of safer play more seriously and try to improve their responsible gambling policies. The whole point of this project is to stimulate those online casinos that don't put much emphasis on this aspect of gambling, which is something that we simply cannot allow to happen. Our sole goal is to act as a third party and generate a seamless relationship between online casinos and responsible gambling organizations.
We believe that every player has the right to feel safe and appreciated at the online casino that he or she is playing. Even more so if we take into account that the livelihood of the operators literally depends on the money from their players. This is it is absolutely crucial for these operators to do everything in their power to nurture a sheltered gambling platform that is stacked with a plethora of responsible gambling tools and options. Gambling addiction is dangerous and harmful, there is no denying that. But as long as the players are informed and have 24/7 access to cutting-edge tools and organizations specifically created for this matter, they do have a fighting chance to not just beat this addiction altogether, but obtain priceless knowledge on how not to make the same mistake twice.
We hope that our Responsible Gambling Index will inspire our operators to take gambling addiction and safer play more seriously. There is always room for improvement, regardless of how many players the casino has, or the reputation that it enjoys in the gambling world. Player safety has been our number one priority since day one, and the driving force behind our idea to implement this revolutionary concept, which is why we are willing to go to such lengths to ensure that every single one of our players gets an unbiased evaluation of the responsible gambling policies of his/hers favourite casino. There will be no sugar-coating or grade-boosting. We are determined to change our industry for the better, and there is no better way to achieve this other than look out for the foundation of the entire industry – our beloved players.