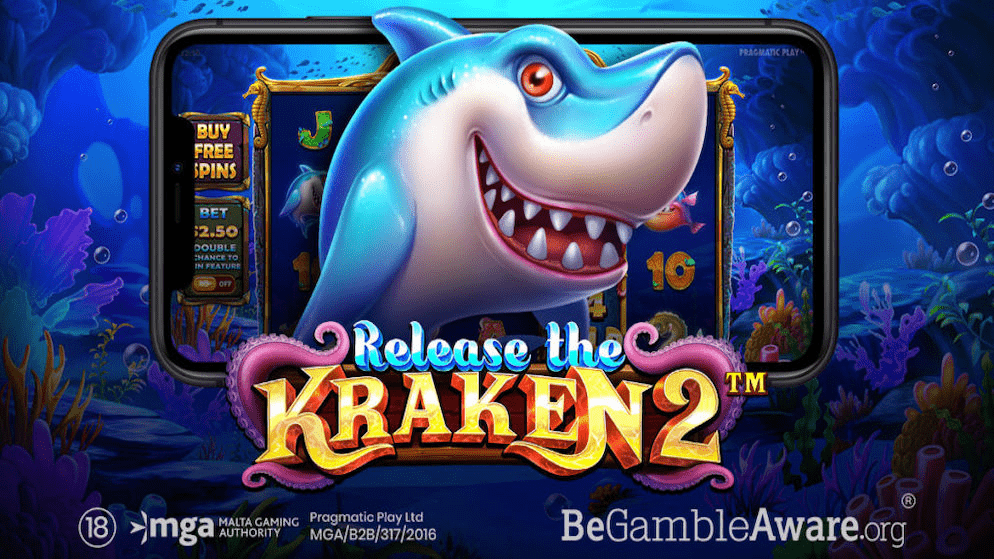 After the massive success of the Release the Kraken slot back in January 2020, the iGaming behemoth of a software developer Pragmatic Play finally issued the long-anticipated sequel of the mega-popular game, Release the Kraken 2. By launching Release the Kraken 2 not only does Pragmatic Play capitalizes on the success of the prequel but the software developer also sticks to its plan to release more than 6 online slots each month, all in order to cement its spot as one of the best and most dedicated online slot developers in the world.
While on the surface Release the Kraken 2 might seem similar to its prequel, in essence, Pragmatic Play decided to drastically improve almost every aspect of this online slot. Starting with the enhanced grid of 5 rows and 4 reels, up to the high-quality design and drastically improved mechanics, everything about Release the Kraken 2 indicates that this online slot was produced by one of the best studios on the planet. Especially the visuals which we guarantee will definitely blow you away.
Moreover, this online slot comes with enticing random features that you can trigger with the base game spins, and these features both match the winning symbols and drastically boost your chances to hit a win. The spinning wilds, on the other hand, lock the matching symbols, and consequently unlock and trigger them as soon as you land additional wild symbols. Thanks to the improved mechanics, the slot can also shift the wilds to four different reels, as well as move the reels each time the wilds land, consequently multiplying the shifting reel by 1 during every turn.
Speaking of the winning potential, you can trigger the (guaranteed) win feature once each losing symbol changes into a winning symbol, and once they do, they are worth from 20x to 60x your stake. Lastly, once you land three scatter symbols or more, you activate the free spins rounds, and these have the ability to offer multiple wins even before they trigger the free spins rounds. As soon as this occurs, you can trigger the golden win feature which consequently increases the value of the multiplier by 1x.
Speaking on the Release the Kraken 2, Irina Cornides, Pragmatic Play's Chief Operating Officer states that the goal with the sequel was to drastically improve the overall excellence of the original. Especially when it comes to the engagement of the features in the base game, and more importantly, the increase of the winning chances.
This sequel aims to take everything that made the original title so popular, increasing the entertainment value to provide new heights of engagement for players. The slot offers multiple features in the base game and the free spins round can be gambled, upgraded and has increased chances of winning, which all work in harmony to create a stand-out title.

Irina Cornides – Chief Operating Officer at Pragmatic Play