Sheepy Overview
Sheepy.com is an exceptional platform that offers state-of-the-art cryptocurrency payment processing solutions. It was created to assist businesses worldwide in accepting crypto payments in a wide range of digital currencies, including Bitcoin, Ethereum, Litecoin, Tether, USDT, and major stablecoins.
In addition to enabling merchants to accept crypto payments, Sheepy is also an ideal solution for businesses that handle large volumes of crypto transactions.
Major features
Sheepy stands out as a versatile platform with a diverse range of powerful features, particularly in the areas of payment processing, conversion, and integration API settings. Firstly, it simplifies the often complex task of payment processing by providing an intuitive and efficient system. Businesses can easily generate and manage payments directly through the platform, enabling seamless transactions with their clients.
At the time of writing, Sheepy supports all major cryptocurrencies on the market, including Bitcoin, Bitcoin Cash, Ethereum, Litecoin, USDT (ERC20) Tether, USDT (TRC20) Tether, TRON, and XRP. Moreover, Sheepy allows users to accept payments, store, convert, and withdraw digital assets at any given moment. To ensure the utmost security, Sheepy implements various safety features such as 2FA (two-factor authentication), cold wallet storage, and a secure API.
All transactions processed through Sheepy are settled within minutes, depending on network congestion and the specific cryptocurrency. However, it's worth noting that individual network protocols may cause some cryptocurrencies to take longer to settle. Regardless, Sheepy provides real-time reporting and transaction monitoring, allowing users to easily keep track of their payment activity.
Withdrawing funds using Sheepy is incredibly easy and convenient. Sheepy offers various withdrawal options, including fiat (SEPA) bank transfers. Simply add your designated (fiat) bank details (BIC, IBAN, etc.), make a withdrawal request, and receive your funds directly into your bank account. Sheepy even allows users to invoice in different currencies, making it convenient for businesses operating in diverse markets.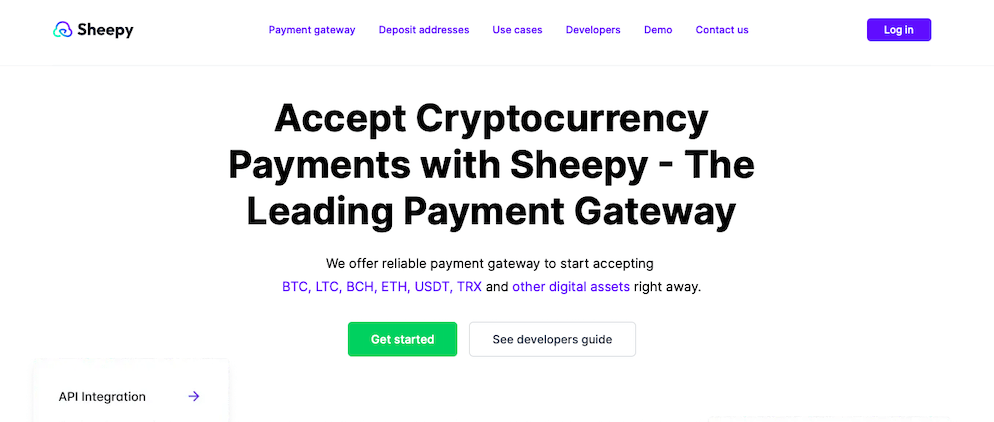 Auto-conversion: Simplifying Multi-Cryptocurrency Transactions
Sheepy's auto-conversion feature is a game-changer for businesses dealing with multiple cryptocurrencies. It eliminates the need for manual conversions by automatically converting received cryptocurrencies into the desired currency of choice. This automated process saves time, reduces complexity, and mitigates the risk of price fluctuations.
The auto-conversion feature is customizable, allowing businesses to set specific conversion rules according to their preferences. This flexibility ensures that businesses can optimize their financial operations, maximize efficiency, and focus on their core activities without the hassle of managing multiple cryptocurrencies manually.
Integration API Settings
Sheepy offers robust integration API settings, enabling seamless integration with existing business systems and applications. The platform provides comprehensive API documentation and support, making it easy for businesses to connect their workflows and processes to Sheepy's ecosystem. The integration API settings allow for smooth data exchange between the business's backend systems and Sheepy. This ensures accurate synchronization of transaction information, real-time updates, and seamless communication between platforms. Businesses can leverage the power of Sheepy's features while maintaining a cohesive and efficient operational infrastructure.
Sheepy's Specific Tools for the iGaming Industry
Sheepy provides a range of specific features tailored to the iGaming industry, ensuring seamless cryptocurrency transactions for both online casinos and their customers. These features include customizable deposit addresses, which allow online casinos to generate static addresses for enhanced security. Instant deposit confirmation ensures minimal waiting time for players, enabling them to start playing and enjoying games without delay. Real-time transaction monitoring provides online casinos with instant updates on incoming deposits, ensuring prompt and accurate crediting of funds to player accounts. Moreover, through Sheepy, online casinos can access a transparent transaction history for auditing and reporting purposes, enabling them to maintain accurate records and address any potential disputes or inquiries with ease.
Demo Page
The Sheepy demo page serves as a treasure trove of information, showcasing the platform's capabilities. By visiting the demo page, merchants are greeted with a user-friendly interface that takes them on an exciting journey into the world of Sheepy. The demo page provides a firsthand experience of how the platform works and demonstrates its cool features. It allows businesses to truly grasp the benefits and potential of Sheepy, making it easier for them to decide if it's the right fit for their needs.
Instant Account Setup
When it comes to the onboarding process for the iGaming industry, Sheepy sets a new standard with its remarkable efficiency and user-friendly approach. One outstanding aspect of Sheepy's onboarding process is the ability to have the account and test environment set up on the same day. Unlike traditional platforms that may require days or even weeks for account activation and environment configuration, Sheepy prioritizes speed and efficiency. The absence of bureaucratic hurdles ensures that online casinos can quickly harness the power of Sheepy's features and benefits without unnecessary delays. This prompt account and test environment setup set the stage for a productive and efficient partnership between Sheepy and iGaming operators.
In conclusion, Sheepy is revolutionizing the way businesses handle cryptocurrency payments. With its intuitive payment processing system, auto-conversion feature, and seamless integration capabilities, Sheepy empowers businesses to embrace the future of digital finance. Moreover, its specific tools tailored for the iGaming industry make it an ideal choice for online casinos seeking to offer seamless cryptocurrency transactions. The Sheepy Demo Page provides businesses with a firsthand experience of the platform's capabilities, facilitating informed decision-making. With instant account setup, Sheepy ensures a smooth onboarding process for iGaming operators, setting the stage for a productive and efficient partnership.
Pros
Ideal for large volumes of crypto transactions
Auto-conversion feature
Customizable deposit addresses
Robust integration API settings
Various withdrawal options including fiat/SEPA
Sheepy FAQs