MuchBetter Overview
A modern and innovative banking method, MuchBetter is a company owned by MIR Limited London. It all started back in July 2017, with the ingenious goal of the creators to create a youth-oriented payment method. The goal is to get some of the younger customers who prefer to use smartphones for transactions and e-wallets, over physical cards and cash. And we must say, it certainly paid off. Today, in less than 4 years MuchBetter is available in 185 countries, has a staff of 70 members and partners with 50 businesses from various industries. Furthermore, it is verified by the UK's FCA and won several prestigious awards.
With a clear focus on the gaming market, it is no surprise why this payment method has become so successful in just under 4 short years. It is safe, and it presents a unique payment method with the ultimate goal of transparency and safety. Furthermore, MuchBetter has quite an award cabinet as well.
Having won several consecutive awards for various achievements with some of the latest being EGR B2B Innovator For Payment Solutions for 2021, CNP Award for Best Mobile Payment Solution 2021, Best Innovator In Mobile Payments 2021, Best Alternative or Digital Payment Program and much more. Consequently, we must admit that the features, along with the rewards and perks with this one are definitely a breath of fresh air and a clear indicator of quality

MuchBetter in the Online Gambling World
With such a formidable worldwide presence it is no wonder that MuchBetter is available in quite a number of casinos. As we said earlier, this method is solely for electronic use and e-wallets, and in this high-tech world that is pretty smart. Recognizing the potential, casinos such as Bitstarz, Leo Vegas, 888, Rizk, Spin Casino and a plethora of others, all have MuchBetter as a payment option. As matter of fact, it is their sole purpose to provide you with a secure gaming environment. In addition, the transactions are instant, so if a delay occurs, it is most likely from the casino's side. You can expect all the latest technology when it comes to security when depositing as well.
Moreover, one of the coolest things about MuchBetter has to be their reward program. The more you spend on a list of select game sites, the more points you accumulate. And the more points you accumulate, the bigger the chances for rewards.
And believe us the rewards are quite hefty. For example, you can win all kinds of different prizes. Specifically, with the current Mega Draw 21. With the draw, MuchBetter will give away €12.500 at the end of each quarter throughout the year, for a total pot prize of a whooping €50.000. Moreover, due to the milestone of 44 million MegaPoints in 2020, MuchBetter will gift 50.000 at the end of the year if a goal of 121 million MegaPoints or more is reached in 2021. And the best part of this is that the winner of the MegaPoints bonus will get to choose a charity, and MuchBetter will donate €10.000 to that particular charity. Just amazing. And this is in addition to the privileged and unique bonuses MuchBetter's users are entitled to anyway.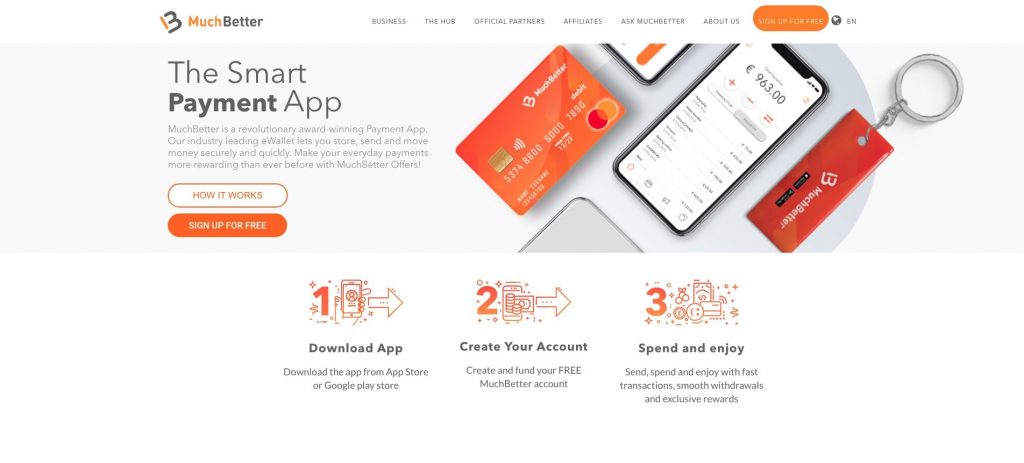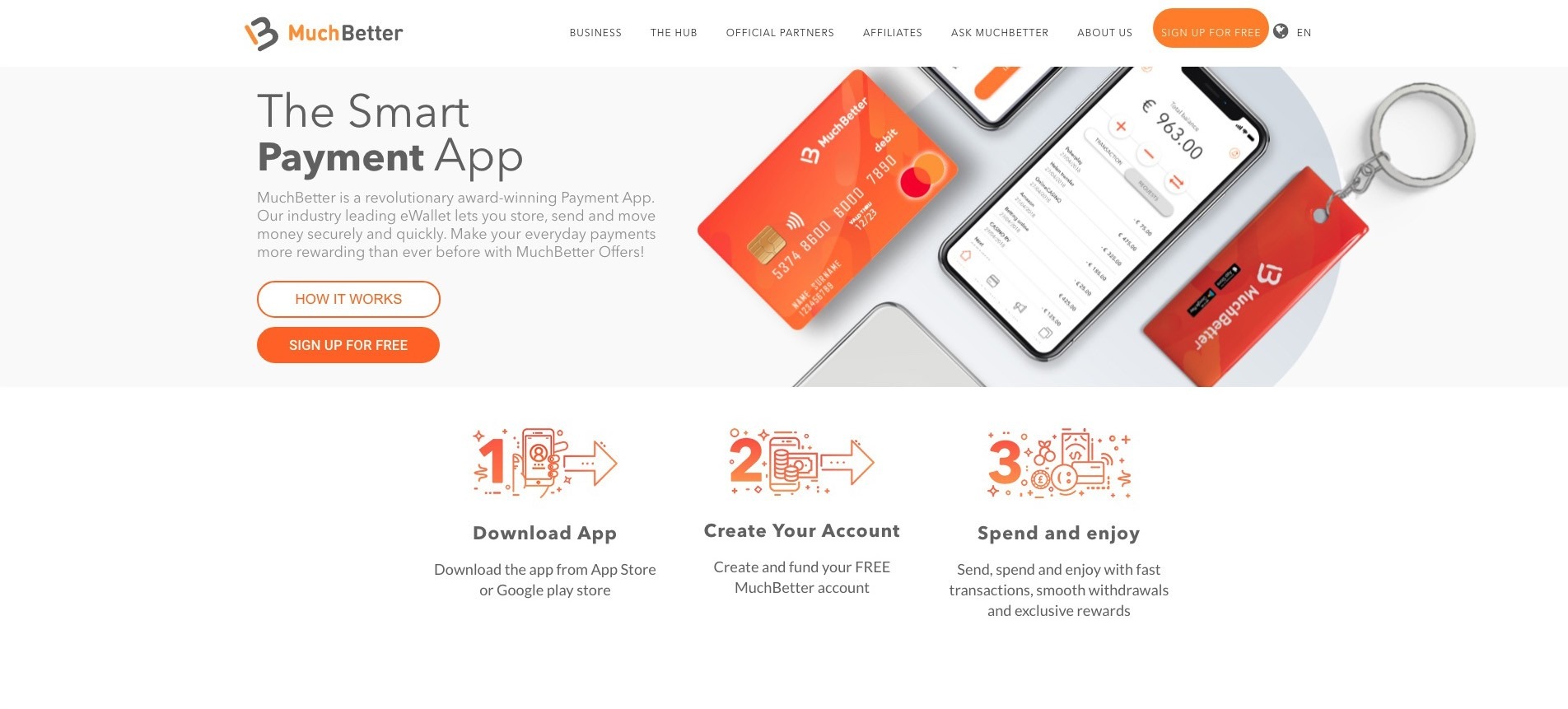 Visit Online Casinos that accept MuchBetter
How to Deposit
The process of making a deposit with MuchBetter is practically effortless. Being smartphone oriented, first, you need to download their app. In addition, you need to sign up and register an account and wait for confirmation. Afterwards, you are only a few steps away from having an active account, ready for use:
Find the 'Cashier'
Select the preferred deposit method
Have Fun
Additionally, note that deposits via bank transfer account are not subject to any fees. However, there are certain fees that are subject to change, and we advise you to inform us well before choosing your payment option. But mind that MuchBetter themselves claim to have the lowest fees of among all e-wallets, so we'll leave you with that. Furthermore, being one of the most technological, this e-wallet also offers digital payments. If you have a MuchBetter bracelet, MuchBetter Prepaid Debit Mastercard ® or even a smart-watch then you can conduct wireless payments as well. Truly amazing and innovative.
How to Cash Out
The cash-out procedure with MuchBetter is as convenient as the deposit one. Just visit the 'Cashier', select MuchBetter as an option, and claim your winnings. Just to let you know, all of the transactions are instant with this e-wallet, and the only delays are from the casinos. The waiting period for the funds to reach your balance can be from 2 hours, up to a couple of days. Again, depending on the casino. Furthermore, another unique feature that MuchBetter offers is being able to withdraw directly from gaming accounts. A feature many of its rivals certainly lack, and the players cherish.
MuchBetter FAQs