Online casinos are fairly new in comparison to their land-based counterparts, and as such, they are rightfully considered to be the pinnacle of online casino gaming. However, in order to best understand how online casinos developed over the years, we need to know the historic milestones that cultivated the iGaming industry and helped it mould into this cutting-edge technology that we know today. And when it comes to technological improvements and online casinos, you won't find a better way to notice the advancements than with the slots, the essence of all online casinos. Hence, due to the significance of online slots and their place in the online casino community, we decided to conduct research and find out what are the legendary slots that forever changed the iGaming industry as we know it.
Mega Moolah Slot
Launched in 2006, it didn't take much for this legendary slot title to become an instant fan favourite, and consequently, top the charts of the online slot rankings. And the number one reason for this achievement is the fact that Mega Moolah Slot was probably the first online slot to match the rewarding prowess of land-based casinos, something that many believed to be impossible when it comes to online casinos. Well, when it comes to this title, it is safe to say that Mega Moolah Slot completely changed the perception of casino enthusiasts around the world in a very dramatic manner.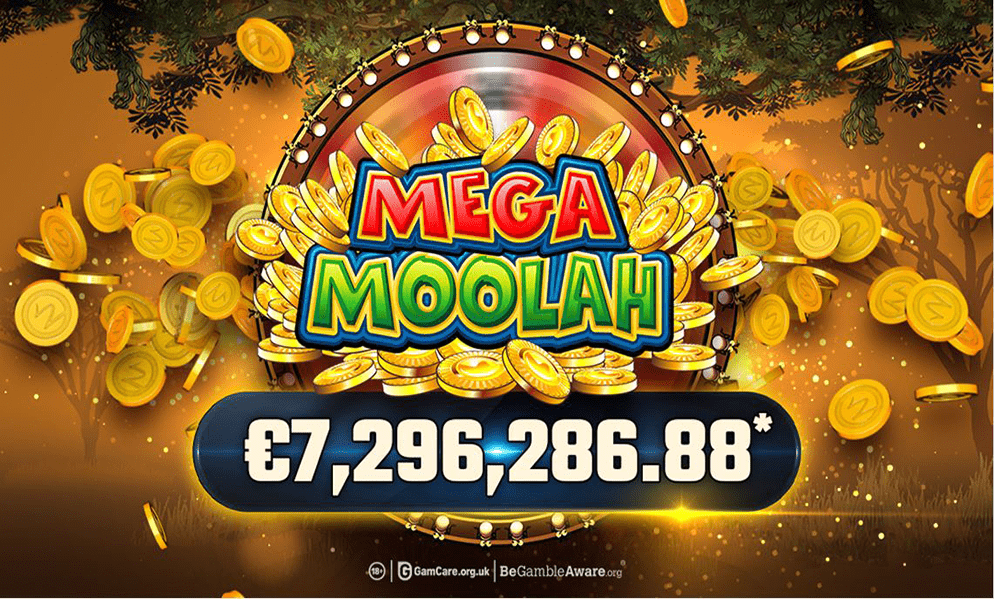 That is by single-handedly dropping some of the biggest casino wins in the history of online gambling entertainment. For example, in 2015 one of these legendary Mega Moolah Slot jackpot wins was an insane £13,213,838.68 prize that one very lucky player managed to take home. Referred to as the Million Maker, since the start of its service in 2006 and up until today, Mega Moolah Slot is noted for paying out more than a whopping $1 billion in jackpot wins, with no intentions of stopping anytime soon. Due to this, the Mega Moolah Slot rightfully earns its place as one of the legendary online slots that changed the iGaming industry as we know it and it definitely cements its place in the history of gambling.
Provider: Microgaming
Release: 28.11.2006
RTP: 88.12%
Variance: Medium
Max Win: x11250
Layout-Reels: 5-3
Betways: 25
Features: FreeSpins, Free Spins Multipliers, Progressive Jackpot, Scatter symbols, Wilds
Theme: Safari
Genre: Adventure
Thunderstruck
Similar to Mega Moolah, ever since first emerging on the iGaming scene in May of 2004, and up until today, Thunderstruck is constantly mentioned as one of the most influential online slots in the history of online casinos. This is despite the fact that Thunderstruck is lagging behind its more advanced counterparts in the visual department, i.e. the graphics. It even lacks the hundreds of paylines that are slowly becoming the norm for a vast majority of the iGaming studios out there. However, what makes this online slot an all-time classic can be found in the fact that players simply love the gameplay of Thunderstruck.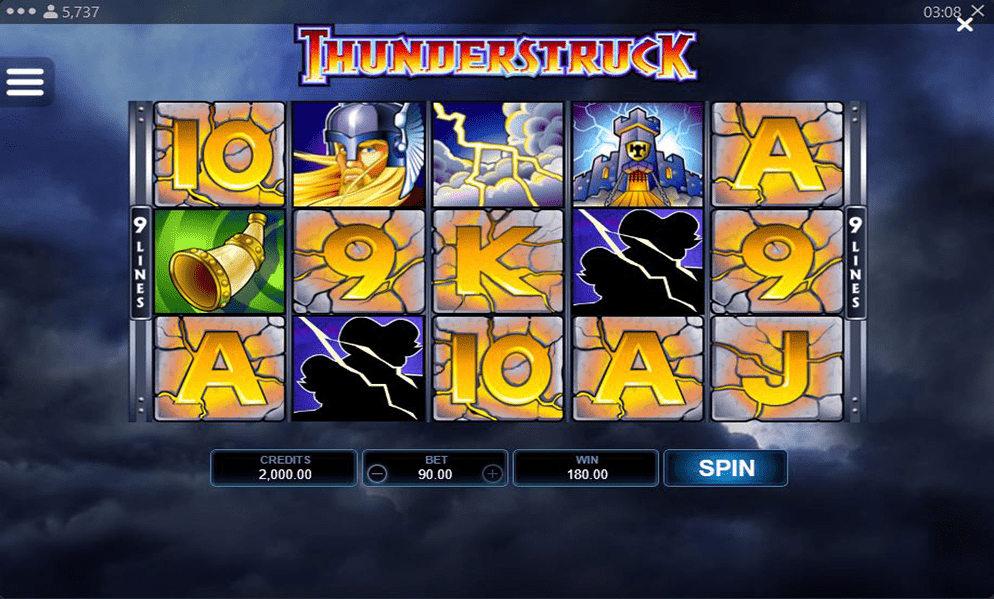 And while this includes a whole plethora of features, the main reason is the frequent multipliers and free spins, which are only in addition to the revolutionary Viking theme that won the hearts of many players in 2004. Consequently, Thunderstruck was the first online slot experience for many casino players in the early 2000s, and even more importantly, it served as an inspiration for basically every Viking-themed online slot since then. Due to this, Thunderstruck lands a spot as one of the legendary online slots that changed the iGaming industry.
Provider: Microgaming
Release: 01.05.2004
RTP: 96.1%
Variance: Medium
Layout-Reels: 5-3
Betways: 9
Features: Free Spins, Scatter Symbols
Theme: Ancient Civilizations
Genre: Mythical, Viking
Well, making this list wouldn't make any sense whatsoever if we failed to mention the online slot that is probably the most frequently assigned for both welcome free spins and regular free spins promotions, Starburst. Launched in 2012, Starburst is easily one of the most popular online slots that ever existed, and this is mainly due to NetEnt creating the perfect slot experience. Everything from the 80s arcade space-inspired theme, to the simple, yet absolutely amazing mechanics will immediately give you the impression that this is an all-time classic. And this is without mentioning the Starburst Wilds, which needless to say is the most exciting thing that can happen to you with this slot.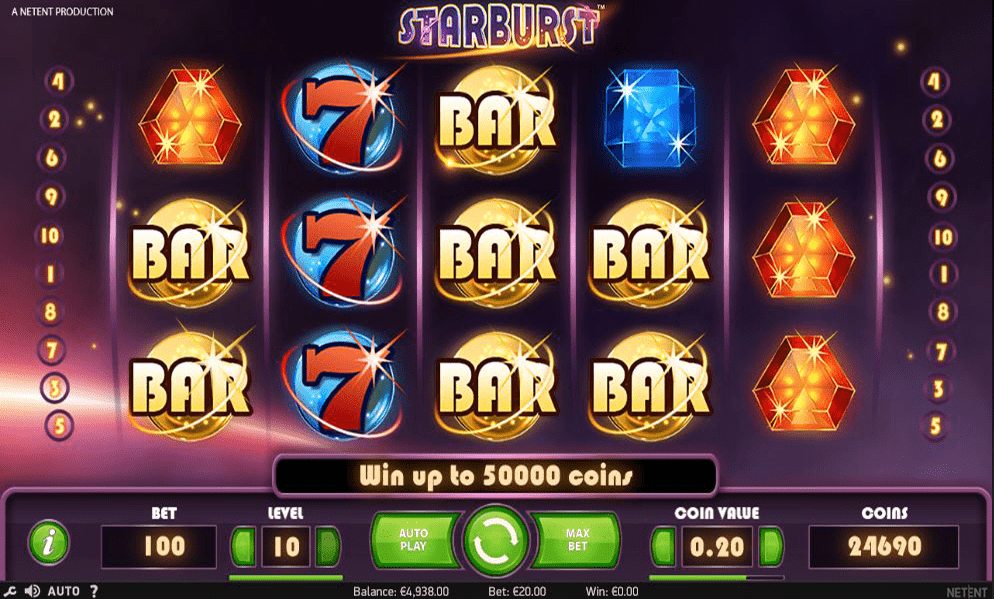 All things considered, Starburst is noted for taking the online slot game to a completely different level, considering that its graphics and audiovisuals in generals are still a subject of frequent copycats and an inspiration for countless other titles up to this day, and it will very well remain this way in the future. Due to its immortal status, legendary status appearance, simple, yet highly entertaining and smooth mechanics, and overall impact on the industry, Starburst is definitely an online slot that changed the way developers are approaching slots forever.
Provider: NetEnt
Release: 12.11.2013
RTP: 96.09%
Variance: Low
Max Win: x600
Layout-Reels: 5-3
Betways: 10 (Both ways)
Features: Expanding Symbols, Respin Wild, Respins, RTP range, Spreading Wilds or Wild Rush, Starburst mechanic, Wild
Theme: Gems, Space, Space Arcade
When we talk legends, we have to give credit where credit is due. And when it comes to legends in our very own industry, then you will have a hard time finding a more influential online slot than the legendary Book of Ra. Created by Novomatic (former Green Tube) and released in March 2004, this online slot easily takes the title as the game that inspired the biggest number of variations and copies in the history of online casino gaming. In fact, at the moment of writing, there are more than 225 members of the legendary genre "Book of", and this wouldn't have been possible without Novomatic creating a legendary slot that maintains a cult following even today, despite the hundreds of new versions.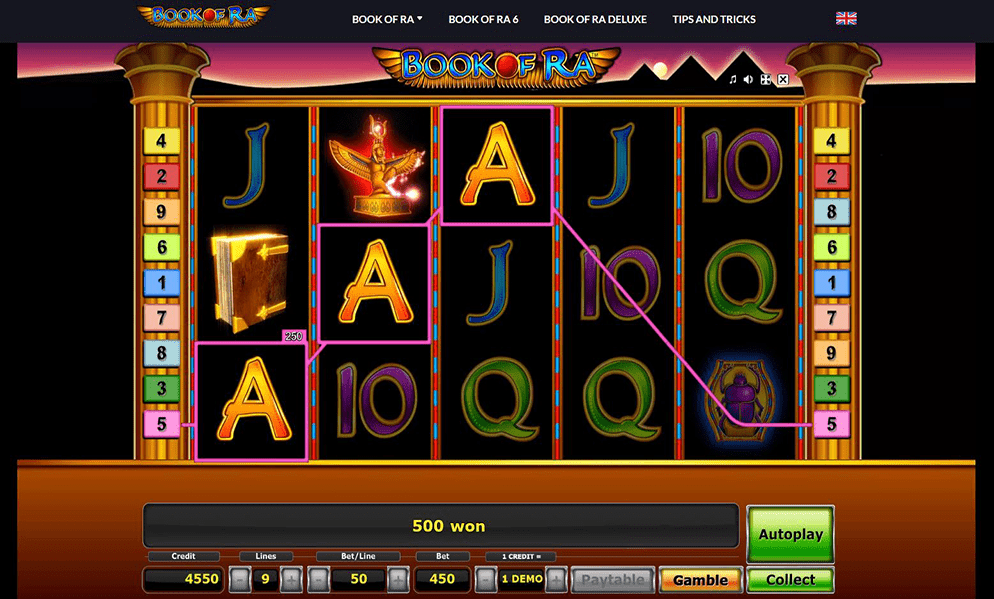 Nothing beats the early 2000s Mummy movie vibe, the ever-captivating nature of the mysterious Egyptian culture and history, and the perfectly balanced gameplay that is backed with beautifully designed symbols. Add the gamble feature that is famous for granting you either double or nothing and the 10014 times your stake win potential, and you quickly get the idea why the Book of Ra maintains a legendary status as one of the online slots that changed the iGaming industry.
Provider: Greentube
Release: 07.03.2004
RTP: 92.13%
Variance: High
Hit Frequency: 28
Max Win: x10014
Layout-Reels: 5-3
Betways: 9
Features: Book of mechanics, Free Spins, Risk-Gamble (Double) Game, Scatter Symbols, Wilds
Theme: Ancient Civilizations
Jack and The Beanstalk
Just as the name suggests, this online slot is an adaptation of the popular British fairytale about the boy who climbed the beanstalk in pursuit of adventure and ended up with vast riches. When it comes to its online slot counterpart, NetEnt made sure that you get the same deal of excitement and adventure as Jack did in the novel, and then some. Launched in 2013, this is yet another groundbreaking slot from Net Entertainment that forever changed the way that online slots are created, and with a very good reason. That is because Jack and The Beanstalk is the first online slot that on top of the excellent visuals integrated an advanced 3D technology that eventually became the norm for virtual reality (VR) and online casino gaming.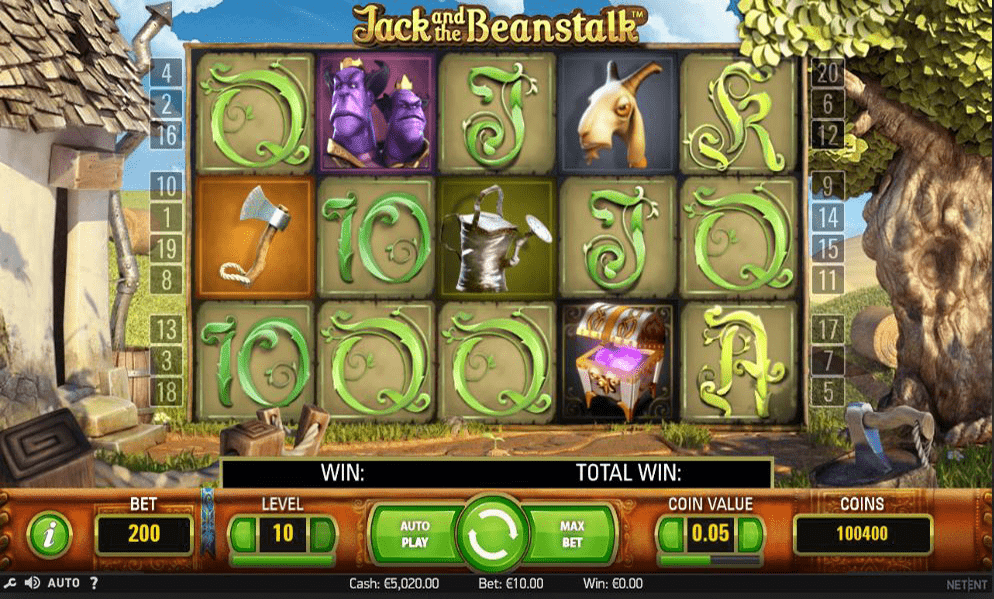 On top of the technology, NetEnt created an utmost captivating and exciting RPG (role-playing game) that is highly rewarding, being that you can win 600.000 coins, or simplified, 1.500 x your stake. And this is without mentioning all of the additional bonus features such as the amazing free spins feature, which is both visually amazing, and rewarding. Or the walking wilds and the treasure hunt bonus, which should definitely be one of your top priorities. To sum it up, Jack and the Beanstalk by NetEnt has everything in its arsenal to forever remain an all-time classic.
Provider: NetEnt
Release: 12.11.2013
RTP: 96.28%
Variance: High
Max Win: x1.500
Layout-Reels: 5-3
Betways: 20
Features: Free Spins, WildS
Theme: Cartoon, Jack and the Beanstalk
Genre: Adventure, Fairy Tale
Lastly, we have yet another legendary online slot by the Swedish iGaming developer NetEnt, Gonzo's Quest. Live since 2013, one of the biggest reasons why Gonzo's Quest is a legendary online slot is because this is the first game ever to offer the absolutely brilliant Avalanche bonus feature that practically starts a rain of winning symbols from above, over and over again. Based on the real-life Spanish conquistador, Gonzalo Pizzaro, an explorer and younger half-brother of the legendary Spanish conquistador that is noted for the downfall of the ancient Inca Empire, Francisco Pizzaro, we can say that Gonzo's Quest is the most popular product of NetEnt, being that the majority of online casino players learn about the Swedish studio via this online slot in particular.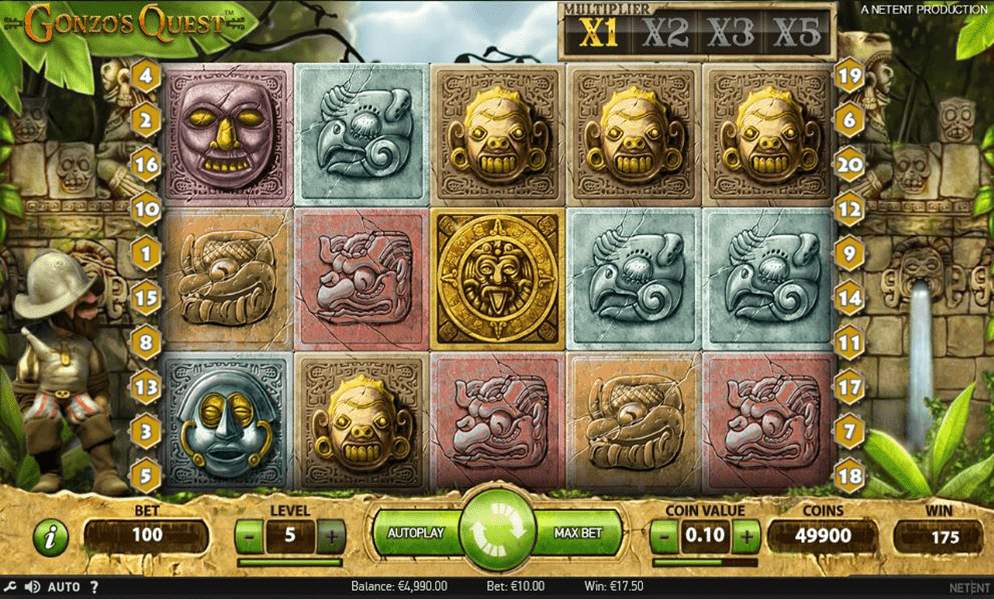 Well, just as with Jack and the Beanstalk, Gonzo's Quest was one of the first online slots to come with brand new 3D technology, and just like Jack, it also got its very own VR version as well. Consequently, Gonzo's Quest is one of the slots with the best graphics and visuals even nine years after its initial release, and due to this fact, we must place it on our list of online slots that forever changed the iGaming industry.
Provider: NetEnt
Release: 11.11.2013
Type: Video Slots
RTP: 95.97%
Variance: Medium-High
Max Win: x3750
Layout-Reels: 5-3
Betways: 20
Features: Avalanche / Cascading Wins, Free Spins, Gonzo Mechanic, Multiplier, Scatter Symbols, Wilds
Theme: Ancient Civilizations, History
Genre: Adventure