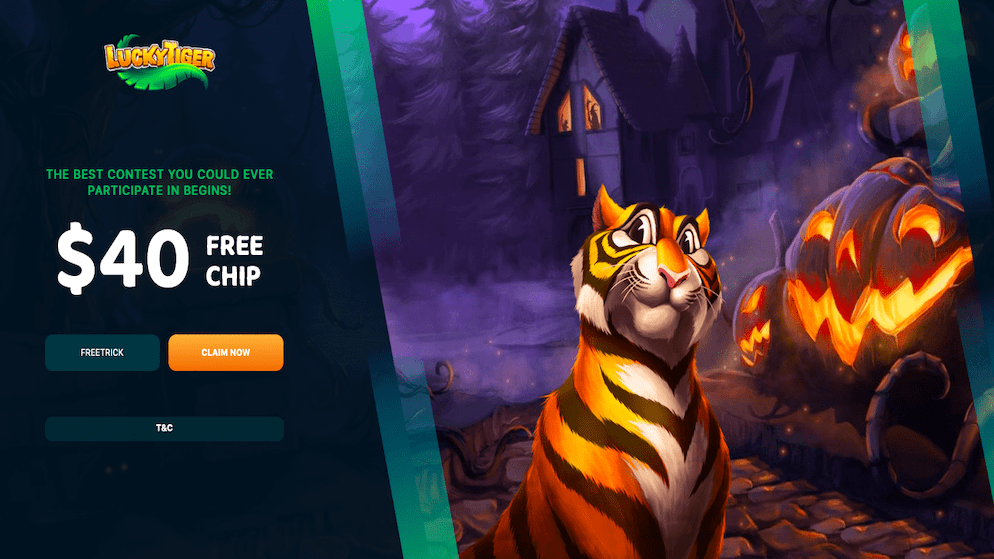 We are once in the midst of the spookiest yet at the same time one of the most anticipated days of the entire year, Halloween. Regardless of whether you are located or the Northern or the Southern hemisphere of this planet, there is hardly a human who hasn't heard about or had the opportunity to be a part of the magical festivities that are part of this tradition. Trick-or-treating, wearing costumes, jack-o'-lanterns, haunted mansions, everything that we do on this day is with one specific purpose: have as much fun as possible. And let's be honest, it isn't really a Halloween without getting a ton of treats and candies. Well, with this in mind and proportionally with the spirit of this ancient Celtic tradition, Gamblers Connect and Lucky Tiger casino decided to give you a unique and highly rewarding Halloween promotion!
The first thing you need to know about this awesome Halloween promotion from Lucky Tiger is that is absolutely free! That's right, we decided to give you the chance to claim a 100% free casino bonus that is correspondingly fun and easy to claim just as the treats that you get on Halloween! In order to ensure this is the case, Lucky Tiger decided to give away a $40 free chip casino bonus that you can claim simply for registering an account! The only "requirement" is to copy the designated code "FREETRICK", and simply claim the easiest $40 Halloween promo as soon as you register an account with Lucky Tiger. However, you do need to hurry up since Halloween lasts for a single day (31st of October), meaning that this offer is with limited availability!
Considering that you get to claim the easiest Halloween bonus ever, at arguably one of the most exciting and rewarding online casinos on the market, you definitely shouldn't miss this amazing opportunity to join the ever-expanding Lucky Tiger family. You will find that this operator is constantly trying to find new ways to reward its players, and since the Holiday season is also coming, you better believe that there are going to be even more exciting and rewarding bonuses! So without further ado, we wish you a scary Halloween, and good fortune while spending the easiest $40 ever!