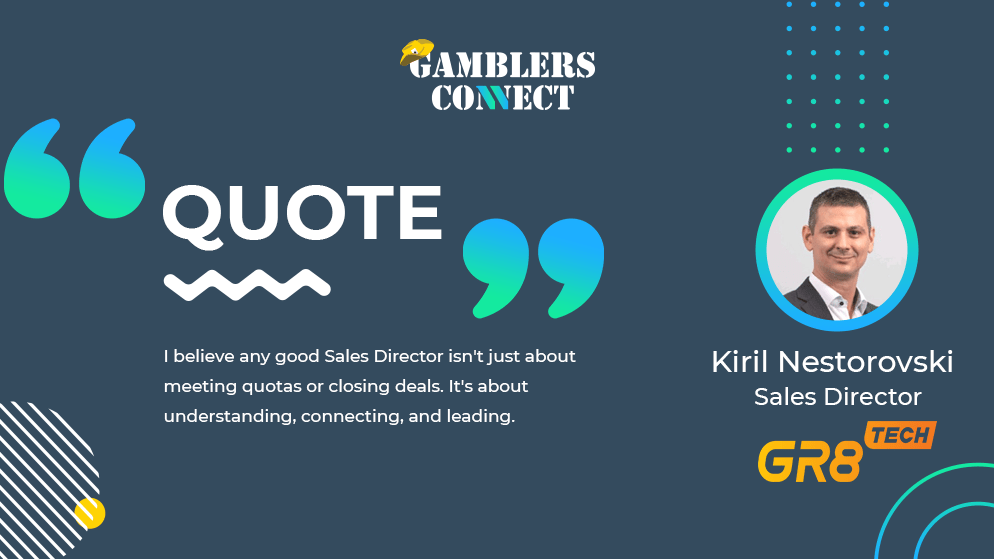 We recently sat down with Kiril Nestorovski, a current Sales Director at the leading iGaming solutions behemoth GR8 Tech, and had an incredibly gripping interview where we discussed a plethora of captivating topics such as his inspiring journey in the realm of iGaming, what it takes to make it in the industry, GR8 Tech meticulous way of work, his opinion on the use of AI, and much, much, more!
First of all, let us begin by saying that it is our pleasure to have you here. Kiril, your experience in iGaming is impressive. Tell us, what inspired you to enter the world of iGaming, and when did your journey start?
Thank you for the warm welcome. I've always been drawn to software as a service (SaaS) industries, and iGaming is certainly one of the most dynamic ones. My iGaming journey began back in 2015, although, in one capacity or another, I've been developing and managing SaaS businesses since the early 2000's. There's something about iGaming that hooked me – the fast pace, the fusion of tech with entertainment, and the chances to make a real impact for both operators and players. Over the years, I've transitioned through different roles and companies. Each step was a new experience with its own success stories and learnings, shaping my outlook and fueling my drive in this dynamic and constantly changing sector.
Considering that you occupied various upper-management positions for some of the biggest iGaming companies, what are some of the most important factors/attributes that a person must possess if they want to make it big in iGaming?
Throughout my time in iGaming, I've noticed a handful of traits that really set people apart. Almost an obsessive client-centric approach has been a game-changer for me. Also, being open to feedback and change is crucial. This industry never sits still—it's always on the move with new tech and shifting player tastes. So, being flexible and quick to adapt is key.
Having a strong understanding of the technical details of the iGaming landscape is another valuable skill. The best projects in iGaming usually need a deep dive into the tech side, and that goes for the commercial teams as well. For me, it's been about deliberate practice—really digging into your passion, always learning, but staying grounded at the same time. This approach not only makes you more credible and approachable but also sharpens your skills.
Last but not least, being able to think about the big picture while nailing the execution is priceless. In upper-management roles, one must not only envision the future but also rally the teams to bring that vision to life, ensuring every detail is thought out and actions are optimized for success.
Kiril, you currently hold the position of Sales Director at GR8 Tech, an iGaming solutions provider with more than 20 years of experience in operational business under its belt. What do you like the most about your position? And are there any differences between being a salesperson in iGaming, as opposed to other industries?
What I find most satisfying about my role as Sales Director at GR8 Tech is the opportunity to work with some amazingly smart individuals on cutting-edge solutions tailored for the iGaming industry. We compete with established industry giants, while not yet having the same widespread recognition, and it's challenging and exciting! We genuinely believe and have witnessed that once industry insiders experience our offering, they understand its unique value. Whether it's our unique solutions like iGaming Launch and iGaming Upgrade or products like GR8 Sportsbook or GR8 Casino, our clients can find just the thing to fit their requirements and answer specific business needs.
iGaming stands out in a lot of ways. It's incredibly fast-moving and always growing. Sure, the basics of sales like understanding your customer and delivering value are universal, but iGaming has its own flavor. Take the level of know-how needed, for instance. You need to get the ins and outs of things like niche markets or local tournaments, not to mention ensuring players have smooth betting experiences. GR8 Tech shines here, taking each case as a unique story, listening to our clients' feedback and tailoring solutions specifically for them.
In essence, being a salesperson in iGaming means you've got to really immerse yourself in the industry's details, understand the tech scene, and be fired up about delivering top-notch experiences for clients and players alike.
In light of emphasizing business sustainability, GR8 Tech operates across a multitude of markets worldwide. How do you ensure the sustainable growth and resilience of your clients in this dynamic environment?
As a lifetime partner for the operators, we are very customer-centric and approach every challenge with a focus on long-term success. In many ways, it means foreseeing and preventing issues rather than catching them on the go and putting out the fires. With the increasing adoption of digital platforms in the gaming space, challenges such as fraud, identity theft, and other security risks have become focal points.
To counter these challenges, GR8 Tech has integrated advanced identity verification solutions and anti-fraud measures into our operations, maintaining balance between ensuring safety and not disrupting player experiences in any way. Adaptability is key: while our core offerings remain unchanged, the way we package and deliver our products and services might differ to address specific market risks. This adaptability allows GR8 Tech to serve a global clientele without compromising on security or user experience. From my perspective as Sales Director, understanding these nuances is crucial to conveying our value proposition effectively.
GR8 Tech provides a plethora of iGaming solutions, with the main focus being helping the iGaming business grow. In what services are new clients interested the most, and do you work exclusively with online casino operators or any company that is in need of iGaming solutions?
We can often see generic solutions in the market, all while every operator's needs are different and everyone's looking for something personalized. The great thing about GR8 Tech is that we offer fine-tailored solutions that match our clients' needs exactly.
One of our most sought-after solutions is our iGaming Launch. This is particularly popular among startups and companies embarking on a mission to launch in new markets. We offer a comprehensive set of products & services that allows new operators to get started with minimal hurdles, taking care of essential elements such as platform integration, payment methods, and more.
Our iGaming Upgrade solution also found its audience. Established businesses looking to enhance their existing operations are particularly interested, as it provides advanced tools and features to gain a competitive edge.
A comprehensive range of solutions and products that work independently from each other allows GR8 Tech to work with any company that needs iGaming tech and services – even those who are interested in the industry, but have never dared to start something of their own before. Our proprietary products, like sportsbook, casino, CRM, payments, bonus & gamification are versatile and cater to a wide range of operators.
What is the most effective way of finding new clients for GR8 Tech? Is it perhaps the clients contacting you, or is it better for the company to reach out and "hunt" down clients?
The beauty of being in the iGaming industry for as long as we have as a team is that our iGaming contacts know what we stand for. Many come through word-of-mouth or by witnessing the success of our operators.
However, as any forward-thinking company would, we also recognize the importance of proactive outreach. The iGaming landscape is vast and dynamic. "Hunting down" potential clients or partners gives us an opportunity to showcase our innovations and tailor our solutions even before a need becomes apparent. It's a healthy and balanced mix.
We live in times when artificial intelligence is becoming more popular by the day, it should come as no surprise that many industries are starting to rely heavily on this latest technology, including iGaming. Do you feel there is a place for AI in the iGaming solutions sector?
Absolutely! AI is already an integral part of the iGaming landscape. It offers unparalleled opportunities to refine and enhance players' experiences, making gaming platforms smarter, more intuitive, and more responsive to individual player needs; helps analyze and categorize player behaviour; process huge amounts of data and much more. We at GR8 Tech use AI in many aspects of our business and even have a dedicated Artificial Intelligence team that works across our products. AI is far from a buzzword – in fact, it's a crucial part of a successful online business.
Kiril, being a Sales Director undeniably requires a certain set of skills. In your personal experience, what makes a good Sales Director, and what are some of the most important attributes a salesperson must possess?
I believe any good Sales Director isn't just about meeting quotas or closing deals. It's about understanding, connecting, and leading.
Having a clear vision is a must. Understanding the industry landscape, anticipating market changes, and aligning the sales strategy with the company's broader objectives are crucial. My time in the iGaming sector has taught me the importance of being adaptive and forward-thinking.
Empathy plays a huge role. We're not selling simple products; we're offering complex solutions. Understanding your client's needs, challenges, and aspirations helps in crafting tailored offerings that truly add value.
Most importantly, to become great at sales, you should have grit and determination and not be afraid of failures or mistakes. They happen. You'll hear a lot of no's. And some of them will be tough ones! Like I had when working on a RFP project, I knew we were the right fit, yet something else was a determining factor (not in our control), so it was a disappointment when we didn't win it. But you move on and win the next one and not allow these setbacks to slow you down, let alone stop you. They are there to help you grow and build you up. And you can't win every time, but you can give your best effort – and this will make you successful in the long run.
There is more to the role, but these qualities, along with the lessons learned from past failures, are some of the most important ones.
Could you tell us a bit more about yourself, Kiril? For example, what would you do if you weren't in the iGaming industry? Where do you see yourself in 5-10 years?
Even if I didn't enter the iGaming world, I'd probably be working in a B2B SaaS environment, as my technological drive only increased with time. I believe in constant improvement, and there are a number of challenging projects I'm currently working on. This allows me to further my knowledge and contribute to the success that GR8 Tech has envisioned.
In our dynamic industry, 5-10 years is a really long time and it can be hard to predict. I'd like to continue my journey with the wonderful GR8 Tech team and amaze operators with our high-performance technology and be the technology partner any operator wants to work with.