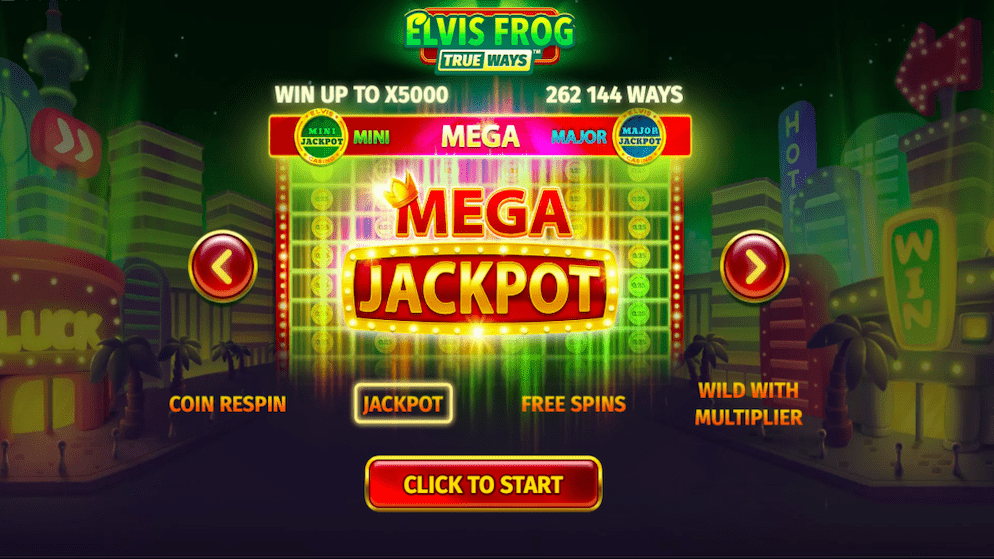 One of the most popular online slot trilogies, the mega-popular Elvis Frog by BGaming is back with the brand new and even more rewarding "TRUEWAYS" mechanics! In fact, BGaming made sure to capitalize on one of its most popular online slot series ever by integrating a staggering number of 262.144 win ways which by far surpasses any of the previous Elvis Frog online slots out there.
The rewarding "TRUEWAYS" mechanics are played on a 6-reel layout and they operate on the concept of reel spins. More specifically, you can win by landing a number of symbols at random that are from 2 to 8, and they can drop on any of the 6 reels. Needless to say, if everything goes according to plan, you get a whopping number of ways to win, i.e. 262.144.
Yet that is not all! Since we are talking about a new slot release with brand new mechanics, in addition to integrating the new and rewarding "TRUEWAYS" mechanics, BGaming also made sure to stack this amazing online slot with a bunch of additional rewarding bonus features. This list includes Free Spins, multiplier Wilds, classic Wilds, Scatter symbols, as well as the exciting Coin Respin Round that comes with up to three different Jackpots!
However, the most exciting by far is the new and absolutely unique bonus feature reserved solely for the Elvis Frog slot, the Lightning feature. You can activate the Lighting Feature during the Bonus Game, and the way that these feature works is that Lightning drops on the reels and it divides the symbols/units into two smaller size units. Not only does this makes the entire game last longer, but more importantly, it also drastically increases the number of possible winning combinations.
When speaking on the new release, the CMO (chief marketing officer) at BGaming, Kate Puteiko, said that the new Elvis Frog release is meant to satisfy both the needs of the existing fans of the Elvis Frog series, but also to attract new players who have never played the game before. And judging by how many features BGaming stacked in this online slot, we can definitely see Elvis Frog exploding on the global iGaming scene unlike any of the prequels.
Elvis Frog "TRUEWAYS" combines everything we love about slots: generous multipliers, a collection of popular features wrapped into the new exciting "TRUEWAYS" mechanics, quality sound design, and one-of-a-kind Elvis Frog as a king of the dance floor! The game's atmosphere will be familiar to those who already played the previous Elvis Frog in Vegas and is a must-try for those who didn't.

Kate Puteiko – Chief Marketing Officer at BGaming