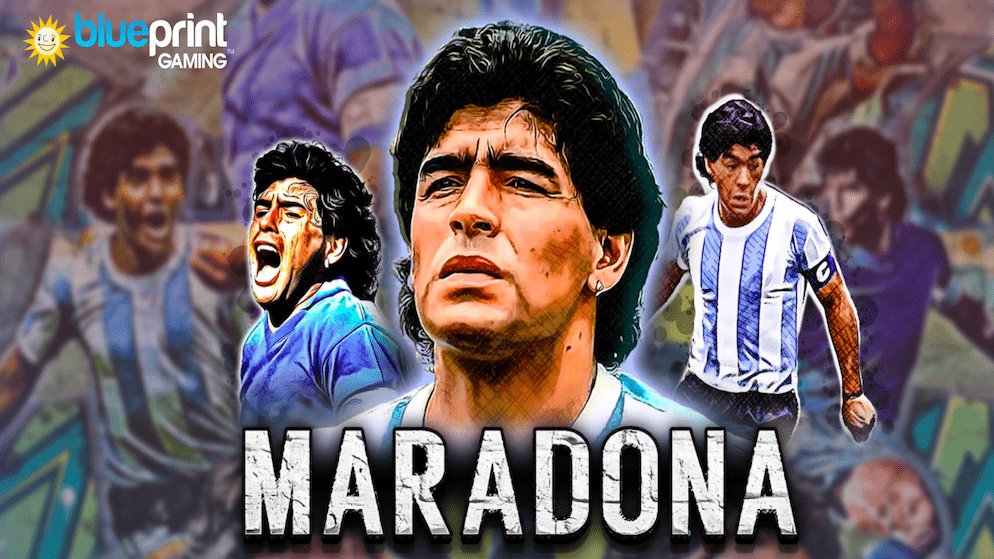 When it comes to the beautiful game of football, there are a lot of players that have left a mark on this sport. However, rarely do any of them can match the charisma and legendary status of the great Diego Maradona. This is exactly what inspired Blueprint Gaming, one of the best creators of branded online slots, to come up with this one-of-a-kind slot experience that is D10S Maradona.
The first thing you will notice when playing the D10S Maradona slot are the visuals that are reminiscent of the 80s and 90s. However, do not let this fool you, since you get the usual high-end graphics, only with a bit of a retro twist that is sure to make even non-football players nostalgic.
This means that everything from the symbols, to the features, is meant to match the excitement of watching the legendary Maradona and his captivating playing style. And speaking of the symbols, needless to say, Blueprint made sure to use all of the clubs that Maradona represented throughout his career as an inspiration to create the lucrative premium symbols, including the jersey from the national football team of Argentina.
And just as exciting are the bonus features of this online slot. To ensure that you get an exciting and absolutely engaging online slot, Blueprint stacked this game with a bunch of unique and absolutely rewarding features that are sure to keep you on the edge of your seat for the duration of your gaming session. Especially the final D10S spin round.
The whole list includes 4 different cash collecting symbols, free spins, multipliers, wilds, sticky wilds… Everything that you need in order to match the excitement and unpredictability of watching the great Maradona play.
Consequently, the best way to experience D10S Maradona is to head to our slots department and read the full review of D10S Maradona. We guarantee that you will absolutely love this classic slot experience, and that is regardless of whether you love football or not.
Read the full review of D10S Maradona