Pros
52 Past Promotions
2851 Games
Decentralised Exchange
Rewarding Features
Hunnypoker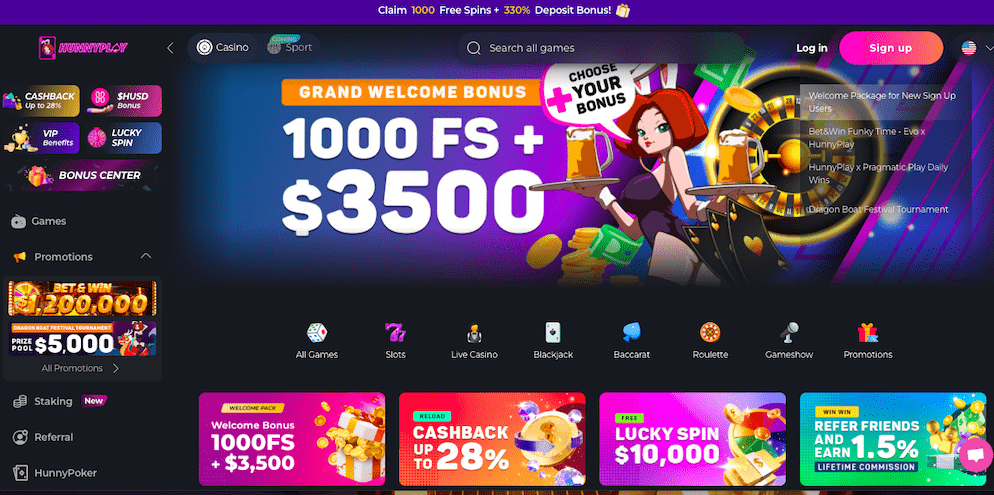 HunnyPlay Casino
Despite the fact that we are in this industry for more than a decade, there are times when we come across an operator that simply put, blows us away. Well, this is the case with our latest partner, HunnyPlay Casino. The reason why we say this can be traced to the fact that HunnyPlay has everything that we look for in an online casino. And considering the competitiveness of the industry, as well as the diversity of operators out there, this is much more difficult than one may assume. It truly takes an effort to run an online casino, and an even bigger one to operate a platform that is literally stacked with features, games, and promotions, all while making sure to do so in a platform that is as good-looking as it is efficient. Well, not if HunnyPlay has a say.
To ensure that you get everything that an online casino may possibly offer, Hunnyplay had to go all in. And all in they went. The first you will notice is the modern and user-friendly interface, which is full of vibrant colours and unique icons for every section. As you further explore, you will find that HunnyPlay has an absolutely mind-blowing entertainment offer with more than 2800 games at the moment of writing, as well as an upcoming sportsbook that will soon be released. However, the biggest strength of this casino is its rewarding prowess. Not only do you get an extensive offer of bonuses and promotions, but this operator also comes with a VIP club, an in-house wheel of fortune, and a bunch of other rewarding surprises and ingenious tools.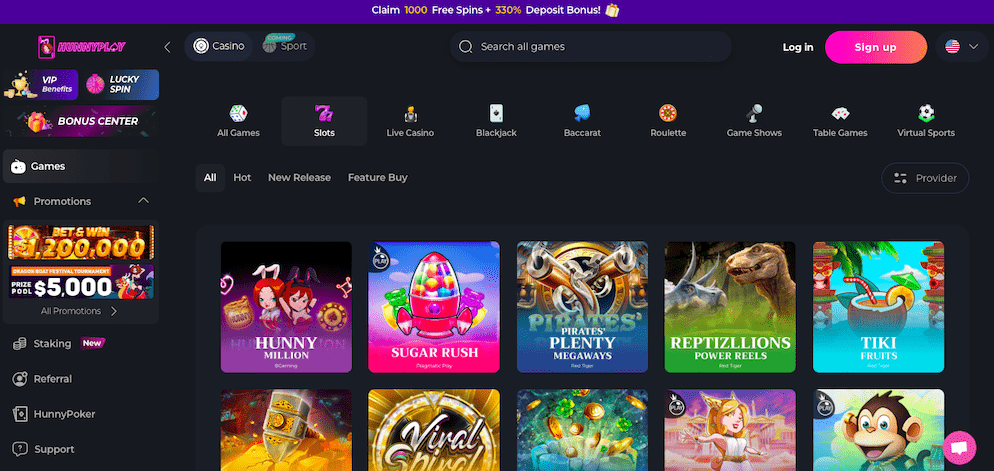 Slots
HunnyPlay Casino has an amazing selection of slots and games that will blow you away. 2851, to be exact. Needless to say, these many games mean that you will never lack entertainment in any way whatsoever. And on top of this, all games are powered by 31 of the industry's leading iGaming developers, which further adds value to the already amazing entertainment. Even more impressive, HunnyPlay is one of those rare casinos that actually make an effort and display the exact number of slots at any given moment, which shows both their transparency and knowledge when it comes to creating a casino platform.
On top of this, all of the games and categories are neatly organized and feature their own unique icon. In addition, you can also find your favourite games in several different ways, including the search bar, providers, new games, hottest games, and buy feature games. All in all, HunnyPlay has a games library that has everything that is required in order to be considered top-tier. A ton of games, excellent organization, leading providers, and a user-friendly interface that definitely saves you time.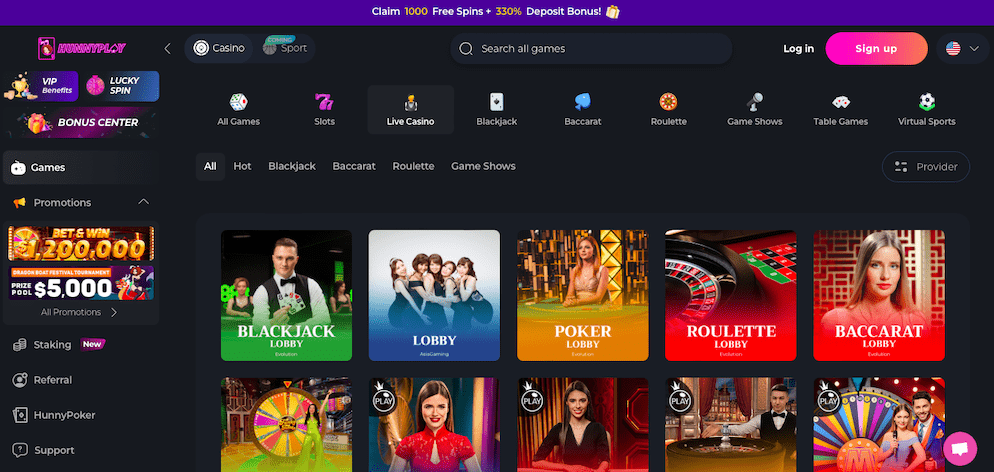 Live Casino & Table Games
Just as with their online slots, HunnyPlay also excels when it comes to casino games. This includes the same meticulous attention to detail, displaying the total games, and the organization, and using the same top-notch iGaming software developers. Consequently, this results in a whopping number of 482 live casino games, which is absolutely brilliant considering that most online casinos tend to neglect this type of gambling entertainment. Even more awesome is the fact that you can search for games via the 4 ingenious categories that include blackjack, baccarat, roulette, and game shows.
And with 482 casino games, you better believe you get options. Have a look.
Poker
Roulette
Blackjack
Baccarat
Keno
Monopoly
Gonzo's Treasure Hunt
Hi-Lo
Adventures Beyond Wonderland
Buffalo Blitz Live Slots
And if this doesn't meet your preferences, then HunnyPlay has its very own separate page dedicated solely to poker called HunnyPoker. Here you can participate in various types of poker games, including exciting tournaments and going against your friends and fellow Hunnyplayers. All in all, an ingenious, high-end poker page that is just as amazing as the leading dedicated poker sites.
Lastly, HunnyPlay also is in the process of developing its very own sportsbook. While it is unavailable at the moment, you can expect the sports betting section to be complete in the nearest future. Not only this will further increase the value of the HunnyPlay brand, but it will also drastically position the casino even further higher up on the ranking list of online casinos.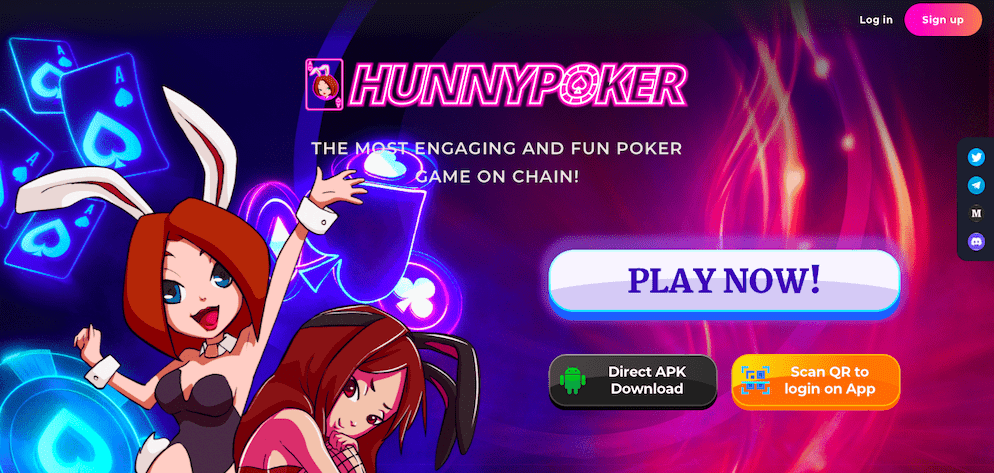 HunnySwap
Being the leading crypto gambling platform that it is, HunnyPlay gives its players several exclusive and ingenious opportunities to earn while playing at its casino. One of these is the HunnySwap, a decentralized exchange with diverse utilities specifically on Avalanche. This means that all Avalanche users can easily share swapping their profits, all while getting the benefit to be a part of the unique HunnySwap ecosystem that includes:
HunnySwap Dex
HunnySwap Trade Minning
HunnyPlay Casino
HunnyPoker
HunnyFinance Farm
NFT Marketplace
HunnyDao
The faster you join, the faster you become eligible to earn and swap for XOXO tokens, which just for reference are currently at $100k liquidity with a $100k market cap and a 0.1-second circulation. And what makes Hunny even more amazing, is the fact that this Is the first Avalanche DeFi + Casino + NFT ecosystem in the business, which in addition to all of this is audited by a legitimate company that specializes in blockchain audits called Certik. Simply put, HunnyPlay is a brilliant mix of iGaming and blockchain, and probably the most advanced crypto gambling/de-fi platform you will ever have the chance to visit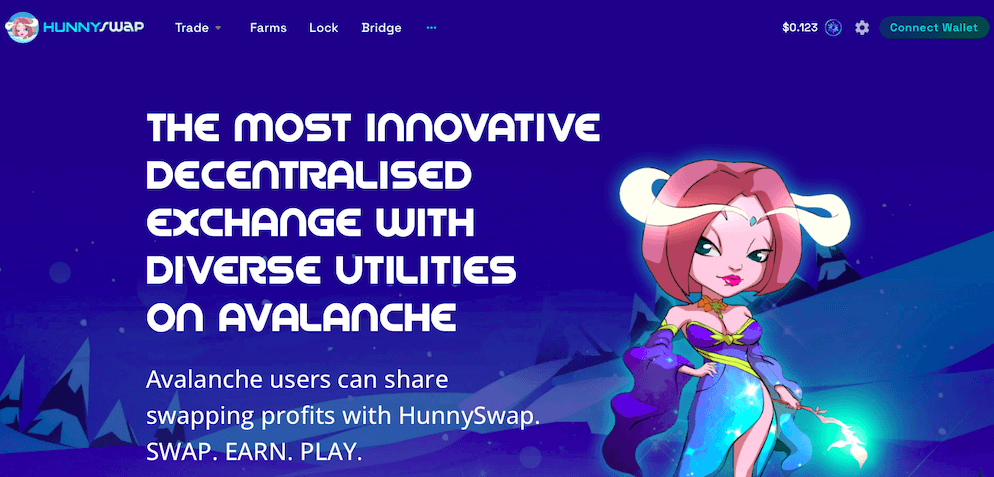 As we already said, HunnyPlay is a leading crypto gambling platform that is simultaneously a full-blown crypto trading platform. Due to this, you can expect a wide range of cryptocurrencies that include nothing short of the most popular and widely-used crypto coins.
Bitcoin, Bitcoin Cash, Cardano, Dogecoin, Jeton, Litecoin, Ripple, Tether, USD Coin, Ethereum, Avalanche, Fantom, OKEx, Polygon, Harmony, Solana.
Considering that we are talking about a crypto casino, HunnyPlay doesn't come with either deposit or withdrawal limits, which is what makes it so popular and sought-after by many players in the industry. The only thing you need to be aware of is that every withdrawal comes with fees, which depend on the method that you are using. For this, we advise you to check the withdrawal fees prior to making a request.

Security/Transparency
While HunnyPlay doesn't have a dedicated gambling license, which we find to be a bit disappointing for such a brilliant platform, it's still, nevertheless, quite safe and transparent. For one, being a crypto-blockchain iGaming platform, it comes with unmatched anonymity, speed of transactions, and safety that is only possible with blockchain. Next, the casino makes sure to provide you with every information possible including detailed papers on their way of work, the exact number of games, and inside information on the volume of transactions.
In addition to this, HunnyPlay can be reached via a 24/7 customer service team, 4 different social media networks, and is recognized by some of the industry's leading brands and affiliates as a real-deal casino that doesn't mess around. Add the news section and the incredible amazing prowess, and you get a balanced, secure, and transparent online gambling platform.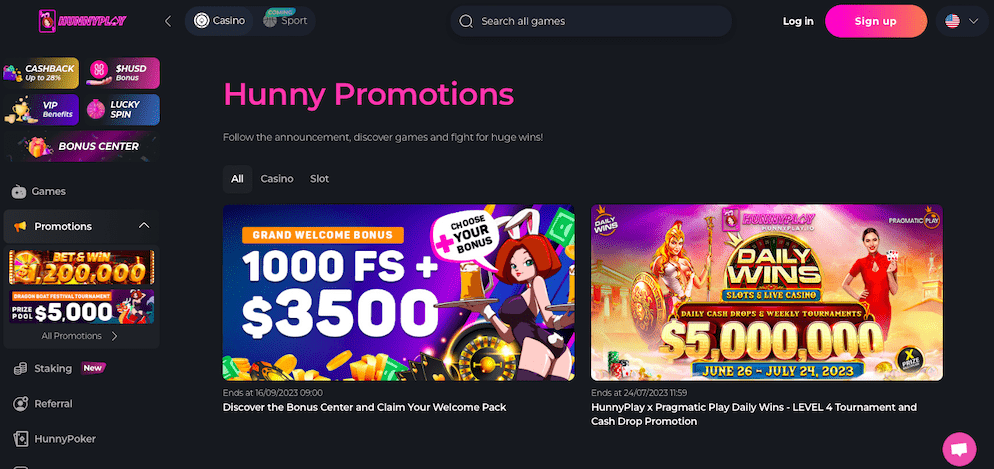 Casino Bonuses & Promotions
Simply put, HunnyPlay and promotions are a combination made in heaven. This is because this operator is all about rewarding its players with various promotions, bonuses, and unique surprises that will make you fall in love with the casino. In other words, not only do you get access to a plethora of promotions, but you also get additional rewarding surprises.
The best way to show you what we mean is to tell you that HunnyPlay has created 52 different promotions up to this point. Despite most of them are currently expired, nevertheless, it means that you constantly get a fresh supply of bonuses which is absolutely mind-blowing and nothing short of amazing.
As we stated above, HunnyPlay is constantly mixing up things and coming up with new exciting promotions to keep you engaged, and this is also the case with the welcome bonus. The current and ongoing welcome package gives you the unique opportunity to personally choose from 3 different welcome packages depending on your personal preferences, which is nothing short of brilliant.
Gold – $3500 + 1000 free spins
Silver – $1500 + 800 free spins
Bronze – $500 + 600 free spins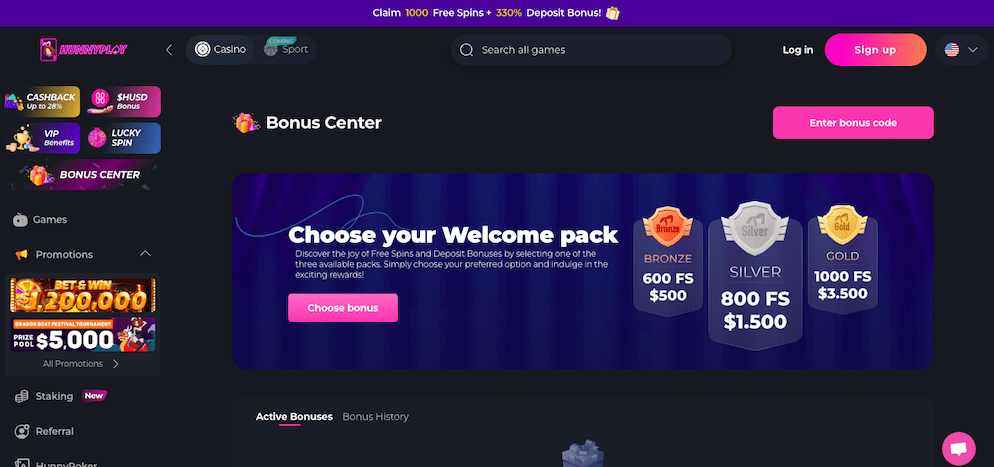 And this is just the beginning. HunnyPlay also gives you the chance to claim several other lucrative promotions, including:
Lucky Spin – spin the HunnyWheel and earn up to $10.000
Refer Friends and Earn a 1.5% Lifetime Commission
In addition to this, HunnyPlay also collaborates with leading providers and constantly creates rewarding tournaments that are nothing short of life-changing:
$5.000.000 Daily Wins – Pragmatic Play Level 4 Tournament
$1.200.000 Bet & Win Funky Time – Evolution Tournament
$5000 Dragon Boat Festival Tournament for The Top 10 Highest Wager Players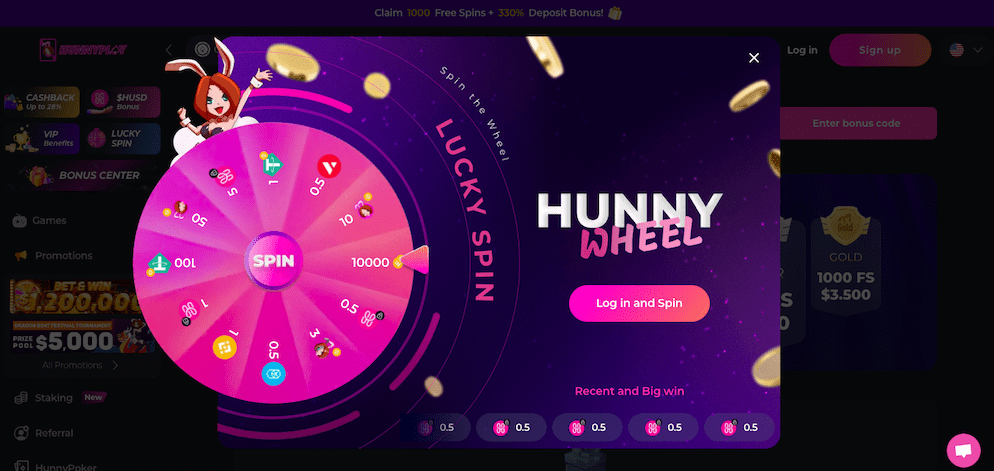 HunnyPlay VIP Club
Last, but definitely not least, we have the HunnyPlay VIP club. And while it does operate as you would expect from a VIP experience at an online casino, what separates the Hunny VIP club is the number of levels and benefits that you get by becoming a member. More specifically, the brilliant minds behind HunnyPlay named each level at the VIP club after a Greek god, starting with Hercules on level 1, and ending with Zeus. The best part, however, is the rewards and perks that you get by reaching a new level.
Just to give you a perspective, by reaching the 15th level, or the Zeus level, you get 28% cashback, and a whopping $10.000 bonus! This automatically makes the Hunnyplay VIP club one of the best ever, and a place that you cannot afford to miss.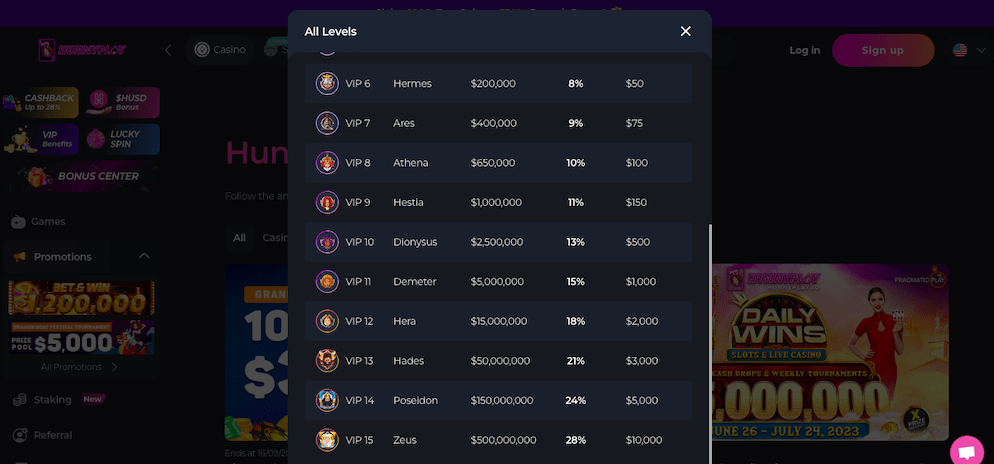 Final Thoughts
What can we say about HunnyPlay except that it is one of the most captivating online casinos you will ever see? Not only does it comes with basically everything that we ask from a modern online casino platform, but it also serves a dual purpose, being that it is also a blockchain hub where you can earn real tokens.
In addition to this, the casino comes with more than 2800 games at the moment of writing, which automatically puts it right up there with some of the best in the game. Moreover, it gives you a chance to use a plethora of cryptocurrencies, it provides you with a long list of advanced features, and it constantly comes up with ingenious bonuses and promotions.
It even operates its own HunnyWheel where you can earn up to $10.000, and one of the most extensive VIP clubs you will ever see. All takes is one look at the 3 different types of welcome packages specifically meant to satisfy the needs of different types of players, and you immediately realize what this operator is all about.
Add the dedicated HunnyPoker page that is nothing short of professional and fun, as well as the fact that they are currently working on creating their very own sportsbook, and it is clear that HunnyPlay is here to dominate the game, not just be a mere part of it.
The only thing we can point out as a drawback is the lack of a gambling license, something that would make the Hunnyplay brand even more attractive. However, we will give them the benefit of the doubt, being that this operator takes additional safety measures to ensure that you are playing at a safe and reliable gambling platform.
All in all, HunnyPlay is one of those online casinos that you simply cannot afford to pass on. It is literally the true epitome of cutting-edge in iGaming, and it literally packs everything that you can imagine from an online casino to pack.
HunnyPlay Casino · Full Review 2023 Details
Restricted Countries:
Angola
Aruba
Bahrain
Bhutan
Botswana
Chad
Congo
Iraq
Jordan
Kuwait
Lebanon
North Korea
Oman
Palestinian Territories
Saudi Arabia
Singapore
United States