Pros
Awarded Customer Service
Mystery Jackpot Feature
Live Stream Monitoring Feature
Sportsbook
+2000 Slots
Cons
Customer Service is Not Available 24/7
Lacks Certain Payment Info
Galaxy.bet Casino · Overview
Galaxy.bet casino will definitely stay lodged in your head right from the start. And it is not the visuals, nor anything similar. Don't get us wrong, Galaxy.bet has soothing colours, offering quite the intuitive website experience as well. Yet, that this not what we are talking about. Operating since 2018, after rebranding from the previous name Buff88, the new and improved Galaxy is definitely a breath of fresh air. That is because rarely you will find an online casino that can go toe to toe with the big brands, and yet still maintain a people's house vibe. Moreover, the reason behind the success of Galaxy.bet is that this time their product is definitely up to the high-end standard that other casino giants tactfully impose.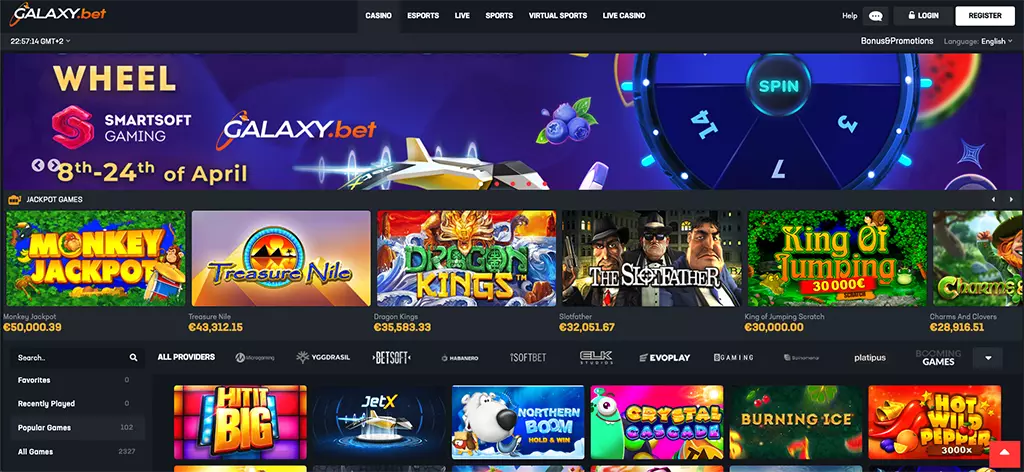 So don't let the fact that this is a 'younger' casino scare you. As a matter of fact, it is quite the contrary. Galaxy.bet casino owners are definitely a team that knows exactly what and when to do it. And if you keep reading this review you will see why that is the case. You are definitely in for the full gaming experience with this one.
Galaxy.bet Casino · Slots
Boy, do they have them? To be more specific, you currently have 2150 slots on disposal. These somewhat +2000 slot games are all by the same top-notch providers you would expect to find at only the best online casinos. Twenty-two of them to be precise. Yet, Galaxy.bet's slots are definitely more generous than many of the leading online casinos on the market tend to portray. And this may even be an understatement. To give you a glimpse, there are over a couple of dozen jackpot slots, all with different prizes. There are literally all kinds of jackpot slots. More specifically, there are slots that begin at €579.45, and then you have the huge Mega Moolah and Mega Moolah Isis jackpot games with an insane €5.967.642.14 in the pot.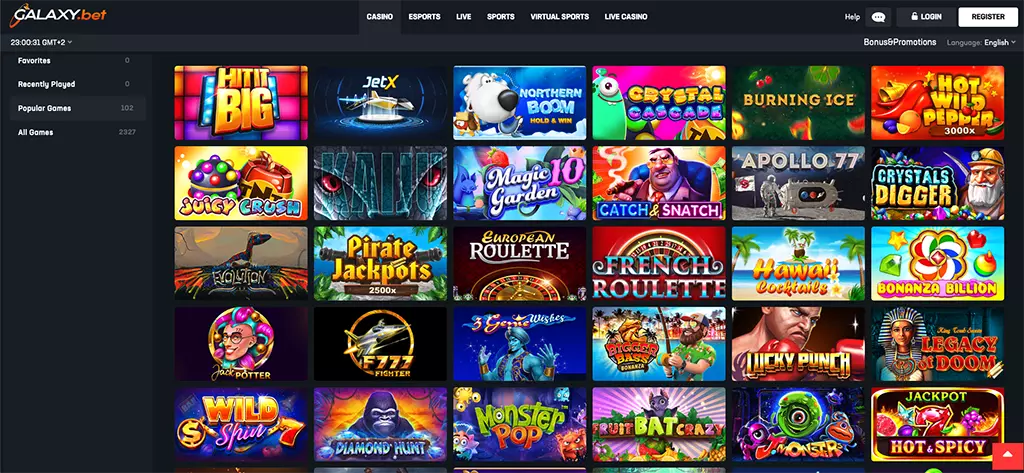 And not to mention all the jackpot prizes in between these. Basically, each time you play you might end up with a life-changing experience. Just note that this is during the time of writing this review. Anyhow, whatever your taste, Galaxy.bet got your back. With a library of 2150 games, you can be sure of that. From the classic themes, you see in all online casinos, to unique pop-culture slots, and literally thousands of others. Galaxy.bet has it all.
Galaxy.bet Casino · Live Casino
Well, Galaxy.bet casino is pretty potent in this department as well. With a total of 227 live casino tables, You can see why. Additionally, you will find all of the classic table games which we all love. Baccarat, Blackjack, Card, Poker, Lottery and Casual. Out of all of these, it is clear that Blackjack is the most present, with 126 tables. For your convenience, we will show you all tables and their number. Just have in mind that Galaxy.bet casino is constantly updating its library. Have a look.
Blackjack – 126
Roulette – 38
Card – 28
Baccarat 23
Lottery – 7
Poker – 4 (we found additional 4 tables in the Card section)
Casual – 1
Furthermore, it is definitely worth mentioning that Galaxy.bet has several gaming departments that are pretty much top-tier as well. For that matter, there are eSports, Live and Sports betting as well as virtual sports. Should you wish to do sports betting via Galaxy.bet, then you will quickly realize that this casino house is quite generous with the odds as well. Especially since many hardcore bettors are saying that this casino has better odds than some of the full-time sports betting providers out there. The offer is plentiful, and you pretty much have every known sport on earth to bet on. And the same case is with eSports and virtual sports.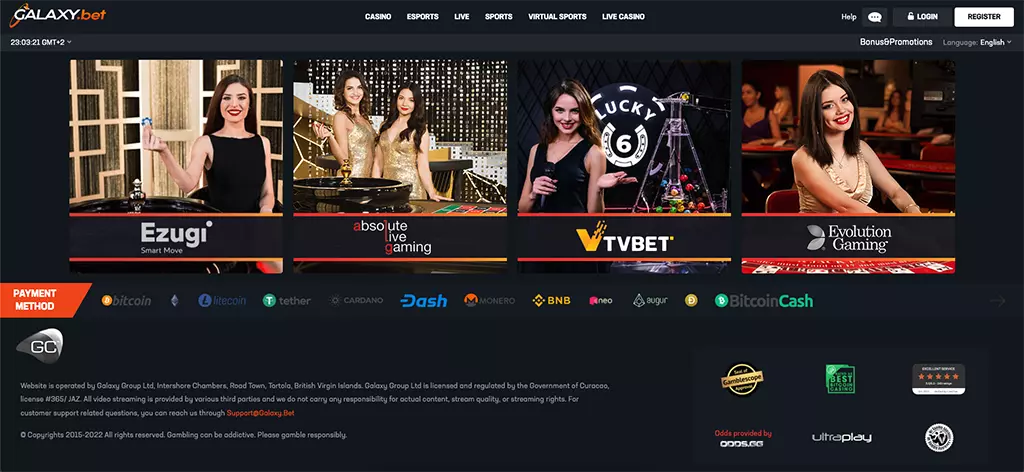 Moreover, Galaxy.bet themselves are known for participating in several CS(Counter-Strike) tournaments as part of the sponsorship brands. This only goes to show that the casino is not limiting itself to the standard features a regular online casino is using. And for that matter, they successfully keep attracting nothing but diverse types of audiences.
One good example is the option to live stream your e-bets. This is one of the things we are talking about. This unique feature enables you to display your betting selection on the website/screen, while you do your gaming. Note that this feature is currently for eSports only. Yet it still goes to show that this industry is constantly evolving, and features like these are what players are looking forward to the most.
Galaxy.bet is definitely packing quite a few payment methods. Pretty much all of the usual and most used, along with several exceptions understandably. You will find credit cards, Skrill, Paysafecard, Neteller, Rapid Transfer, SOFORT, Klarna, eps, skinpay, ecoPayz, ADVcash and of course, bank accounts. You can use these methods for both deposit and withdrawal, with a few instances. The minimum deposit amount is 5, while the minimum withdrawal amount is 15. When it comes to withdrawal requests, you can ask for up to 100.000, depending on your region. For that matter, we always advise reading the terms and conditions when it comes to your money.

Furthermore, the casino is also equipped with cryptocurrencies. And we cannot say that this is a surprise, given the innovative approach that this casino has overall. Specifically, you have Bitcoin, Ethereum, eGold and Monero at your disposal. These are in addition to all of the standard fiat currencies you will find as well. USD, GBP, EUR, RUB, CNY, DKK, JPY, MYR, NOK, SEK, CAD TRY, RUB UGX and INR.
Security/Transparency
Galaxy.bet casino is definitely a legit and safe casino. Employing a Curacao license, this casino also has the latest SSL encrypted technology, which has become the standard in the business. In addition, their customer service team also won the Gamblescope Seal of Approval, which is still valid. That is for scoring a 5 out of 5 rating as excellent customer service. All of these perks make for a quite safe gaming environment.
Casino Bonuses & Promotions 1
It wouldn't be a Galaxy.bet Welcome Bonus without a generous offer. The Welcome Bonus consists of 3 opportunities to claim 100%, 125% and 150%. By using the designated codes GET100, GET125 and GET150, you are eligible to be part of the welcome offer. Note that the minimum deposit amount for each of these packages is €5. Should you deposit, you should also know that the wager requirements for this welcome package are solely for sports betting. Specifically, you need to roll over the deposit and bonus amount x10, on odds 1.69 or higher. From here, the maximum withdrawal amount is your deposit amount plus 2 x the bonus amount. Just have in mind that all the extra winnings will be removed, as soon as you finish the wagering.
Freeshot is another first deposit bonus that Galaxy.bet offers to newcomers. Its purpose is to give you a better chance of getting your money back. The minimum deposit is €5, and you need to wager your first bet on odds 1.69 or higher, in order to be eligible for the bonus. Should you miss the bet, then you can get up to €25 of your deposit back. And if you get something back, then you will have to wager both the bonus and deposit amount 5 times in their sportsbook. Know that if you win the bet, you won't get any bonus whatsoever. Freeshot is just what it sounds like, a free opportunity to get your money back. But that is only the case if you miss it.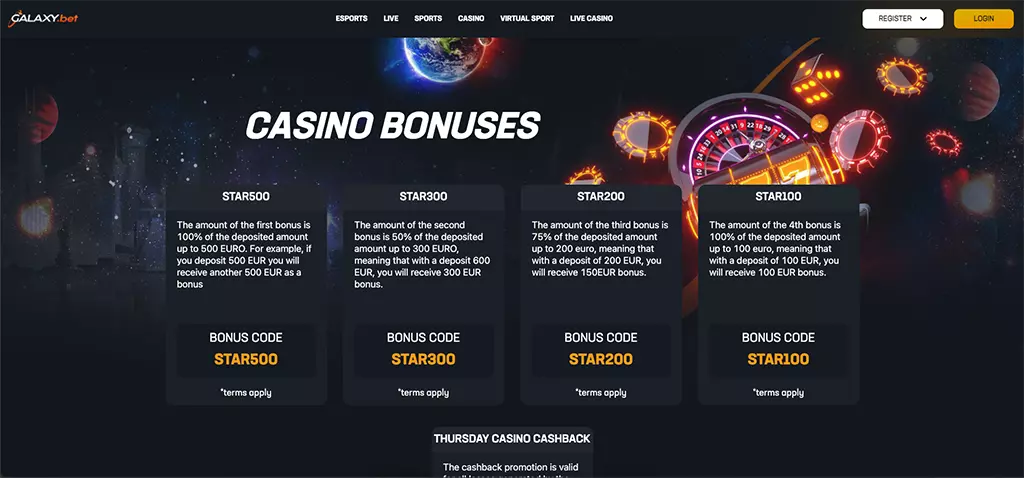 Furthermore, Galaxy.bet also has a Casino Welcome Bonus offer. More specifically, you get something with your first two casino deposits. The first package activation code is WELCOME1000. The minimum deposit amount is €20, while the maximum is €500. And with a reload of 100%, it means you can win up to €500 of your deposit back! The wagering requirement is €40 times, for both the bonus and the deposit amount. The second deposit procedure is quite similar. You must make a deposit of a minimum of € 20, and use the code RELOAD1000 while doing so if you wish to claim it. After that, the wagering is pretty much the same as the Casino welcome bonus.
Casino Bonuses & Promotions 2
The Mystery Jackpot is another great way to win something while you have fun. This is the closest thing that Galaxy.bet has to a VIP club, and is quite interesting we must add. The thing with this jackpot is that it can hit anyone, anywhere, unexpectedly. The name serves its purpose since you never know when or where it will hit. What you need to know is that there are three 'Mystery' tiers, and each has different rewards. Below we present you with the name and value of each mystery tier:
Silver Mystery – €50 up to €250
Gold Mystery – €500 up to €2500
Platinum Mystery – €15.000 up to €50.000
Just have in mind that this bonus's trigger is the sportsbook. Meaning every bet you place, regardless of the sport, makes you eligible for the Mystery Jackpot. Another innovative and awesome feature just cements the company's futuristic approach.
Finally, we have the ACCA bonus. This is eligible for all current/existing players, and as such does not apply to first deposits. The bonus only applies to pre-match combo bets, with five or more selections. From here, the minimum odds for the selections must be 1.50, each. Consequently, the bonus percentage and amount depend on the number of selections you choose. For that matter, we present you with how the grading goes.
5 folds – 5% Bonus
6-folds – 10% Bonus
7-folds – 15% Bonus
8-folds – 20% Bonus
9-folds – 30% Bonus
10-folds – 40% Bonus
11-folds – 50% Bonus
12-folds – 60% Bonus
Responsible Gambling Scoring Index > 🔵GREAT
Strengths
Ethical and responsible marketing
Prevention of underage gambling
Responsible Gambling Policy
Self-Exclusion
Access account history
Self Assessment
Deposit Limits
Wagering Limits
Loss Limits
Session Limits
Weaknesses
Budget Calculator
Reality Check
Final Thoughts
Galaxy.bet casino is definitely one quality gaming provider. All it takes is one visit and you will instantly see what we are talking about. You immediately see the quantity and quality of the gaming options that this casino has. Regardless if you are a casino buff or a regular betting professional, Galaxy.bet is here. Their sportsbook has pretty much every sport you can think of. There is also an eSports department, which is head-to-head with the best e-gaming platforms. There is a casino with more than 2100 slot games and over 200 table games.
Meaning that if you are into slots then you have materials for days. And let's not forget the crazy multi-million jackpots that can definitely change your life. That is not to mention the Mystery jackpot, which can 'treat' you to up to €50.000 at any given time.
On top of that, there is excellent customer service via live chat. This customer service currently holds a Gamblescope Seal of Approval for excellent service. One of the few drawbacks we can point out is that this customer service is not 24/7, which is always convenient. Another thing someone may not like is the fact there is no clear payment information on display. Meaning you need to dig a little bit in order to find that info. Aside from that, Galaxy.bet is definitively one of those high-quality, yet low-key casino houses. We definitely recommend giving this one a show.
Galaxy.bet Casino · 2023 Full Review Details
Restricted Countries:
Australia
Austria
Belarus
Bulgaria
France
Germany
Kazakhstan
Poland
Russia
Slovakia
South African Republic
Ukraine
United Kingdom
United States