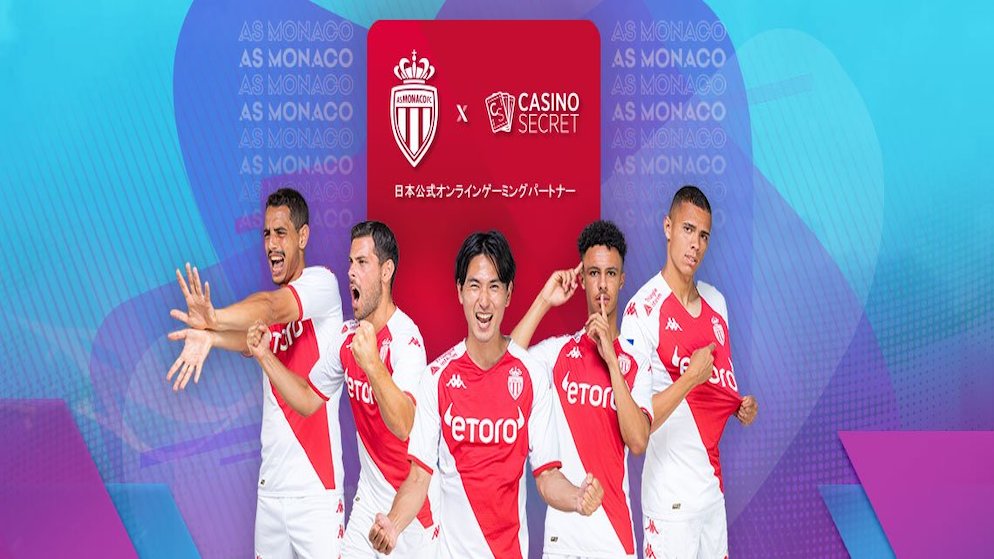 The Cyprus-based iGaming developer Casino Secret has signed a partnership deal for two years with one of the biggest football clubs in France, AS Monaco.
As per the details of the partnership, Casino Secret will be the "Official Online Gaming Partner In Japan" of AS Monaco, where the French club has started to gain a massive following in the past month after the transfer of the Japanese soccer star Takumi Minamino from FC Liverpool.
Moreover, AS Monaco and Casino Room will also kick off a special digital campaign that will feature eye-catching content, created specifically to target the Japanese market. The CEO of Casino Secret, Nadir Ounissi, states that the rise in popularity in Japan is something that has been going on for several years and that the awards from the players from the Japanese online casino community in the country only prove this to be the case.
Since our launch in 2018, Casino Secret brand has been growing exponentially in Japan, leading us to win several awards voted by the community of players. In the past we worked with other partners in the football industry, now as one of the leading online gaming companies in Japan, it is logical to take the next step to associate with AS Monaco, a world-renowned club, with a strong digital audience of over 22 million supporters and a constant growth of this resonance.

Nadir Ounissi – CEO of Casino Secret
Furthermore, Ounissi didn't hide his excitement when speaking on what this deal means for the global exposure of Casino Room as a brand, stating that the new partnership brought out a rollercoaster of positive emotions. In addition, the CEO of Casino Secret also mentioned the arrival of Takumi Minamino in AS Monaco as an excellent opportunity for both brands to further expand their presence in Japan. And as a result of this partnership, the Japanese fans should expect some rather "exclusive content" specifically for Japan.
We're excited to partner with AS Monaco. Emotion, surprise, and fun are the main keywords defining this partnership. This collaboration between the club where one of Japan's top football players' plays, and online casino will bring endless fun and excitement to our audience in Japan. We look forward to work with them to create exclusive content to our Japanese audience.

Nadir Ounissi – CEO of Secret Room
The chief executive at AS Monaco, Jean-Emmanuel de Witt is also thrilled with the partnership with Casino Room, and especially with the opportunity to create unique content for all Japanese football fans. Additionally, de Witt stated the arrival of Takumi Minamino from Liverpool as a big factor for the rise in popularity of the club in Japan, commenting that this is an excellent opportunity to both grow its presence in the country, while creating unique content specifically for the Japanese market.
We are delighted to welcome Casino Secret as our online gaming partner in Japan. AS Monaco is an iconic Ligue 1 club with a strong international dimension, and is enjoying growing interest in Japan notably due to the arrival of Takumi. We look forward to starting this new partnership with Casino Secret to grow our presence in Japan and to provide Japanese football fans with some unique jointly created content.

Jean-Emmanuel de Witt – Chief Executive at AS Monaco