1st deposit bonus from 20 €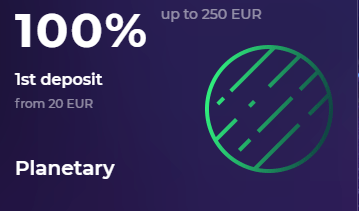 Bonus: 100% up to 250 EUR
Min deposit: 20 EUR
Bonus Wagering: 40 х Bonus Amount
Expires after: 10 days
Planetary
1.Planetary are available for account owners only. It cannot be sold or given to any other users by any means.
2.Planetary is given to any user making a deposit of at least 20 EUR or the equivalent in other currencies on their Luckynova.com account for the first time.
3.The Bonus amount depends on the amount of the deposit, equaling 100% of the deposit. The maximum amount of the Bonus is 250 EUR or the equivalent in other currencies.
4.The Bonus should be enabled before the corresponding deposit and will be credited immediately after refilling the account balance. In case the bonus was not credited after its activation and making a deposit, please contact the customer support before making any bets. Otherwise, we reserve the right not to provide the bonus.
5.Once the Bonus has been credited, your funds will be used in the following order: any funds required to trigger the Bonus (i.e. your real money balance), bonus funds (i.e. your credited bonus). Winnings made from the real money balance are credited to the real money balance and winnings from the bonus balance are credited to the bonus balance accordingly.
6.Users cannot withdraw the Bonus right after receiving it. The granted bonus amount must be wagered 40 times before the funds can be withdrawn.
7.Only wagers made with the bonus money will contribute towards the wagering requirement. Wagers made with real money will not count towards the wagering requirement.
8.Different games contribute differently to the wagering requirements and can be seen in the list below:
Slot Games (exceptions listed below): 100%
Table games: 5%
Live casino: 0%
Video poker: 0%
9.Luckynova.com reserves the right to withhold and remove a user's Planetary if this Bonus has not been used or wagered within 10 days from the date it was awarded.
10.If you choose to request the withdrawal of your real money balance while having an active bonus, the bonus and all the bonus balance will be forfeited.
11.A single user can have only one active Bonus at a time.
12.Should you decide to disable Bonus manually before fulfilling the respective wagering conditions, all bonus funds and progress made in games will be lost.
13.The wagering of the Bonus is automatically reviewed by the system. The progress is shown in the Profile section.
14.Until the wagering requirements have been met, the maximum bet that can be placed is 3 EUR or the equivalent in other currencies.
15.Luckynova.com has a zero-tolerance policy towards bonus abuse and bonus-related fraudulent activity on accounts. If any bonus abuse or bonus-related fraudulent activity is suspected, we reserve the right to stop any further bonuses, promotions and/or offers and remove bonuses and winnings from these and/or linked accounts. Examples of bonus-related fraudulent activity include, but are not limited to:
Using more than one account to claim multiple bonuses;
Two tier betting (where large bets are placed on high variance outcomes, before switching to normal variance outcomes to clear wagering requirements);
Multiple account strategy / proxy account strategy;
Using a VPN or masking IP address;
Betting more than 10% of the bonus amount in a single bet, spin or round.
16.Minimal Risk or Risk-free bets on any games do not qualify for wagering requirements. Players deemed to be using minimal risk wagering tactics or risk-free bets tactics to redeem their bonuses risk having their bonuses, original deposit, and any subsequent winnings removed.
17.Delaying any game round in any game, including free spins features and bonus features, to a later time when you have no more wagering requirement and/or performing new deposit(s) while having free spins features or bonus features still available in a game is prohibited. Players doing so agree to have their bonus, initial deposit, and associated winnings declared void.
18.Planetary at Luckynova.com can only be received once per person, household, IP address (including shared networks), device and/or credit/debit card number or any other deposit method used. We reserve the right to close the User's account and confiscate any existing funds if evidence of bonus abuse is found. Luckynova.com retains all rights in accordance with these Bonus Policies and general Terms of Use to verify its players' behavior and act accordingly.
19.Planetary is not available for users from these countries: the USA, Puerto Rico, the United States Virgin Islands, American Samoa, Guam, Marshall Islands, Northern Mariana Islands, and United States Minor Outlying Islands, Afghanistan, Algeria, Australia, Bahrain, Bangladesh, Belgium, Bhutan, Bonaire, Bulgaria, Brunei, Cambodia, Cayman Islands, Central African Republic, China, Cuba, Curacao, Finland, France, French Guiana, French Polynesia, French Southern Territories, Futuna Islands, Gibraltar, Hong Kong, Indonesia, Iran, Israel, Iraq, Jordan, Kuwait, Lebanon, Libya, Macau, Malaysia, Morocco, Netherlands, Niger, Nigeria, North Korea, Oman, Pakistan, Philippines, Poland, Qatar, Republic of Austria, Federal Republic of Germany, Romania, Russia, Reunion, Saba, St Eustatius, St Martin, Saint Pierre and Miquelon, Saint-Barthelemy and Wallis, Saudi Arabia, Singapore, Spain, Sudan, Sweden, Syria, Taiwan, Tanzania, Togo, Tunisia, Turkey, Ukraine, UAE, UK ("prohibited countries").