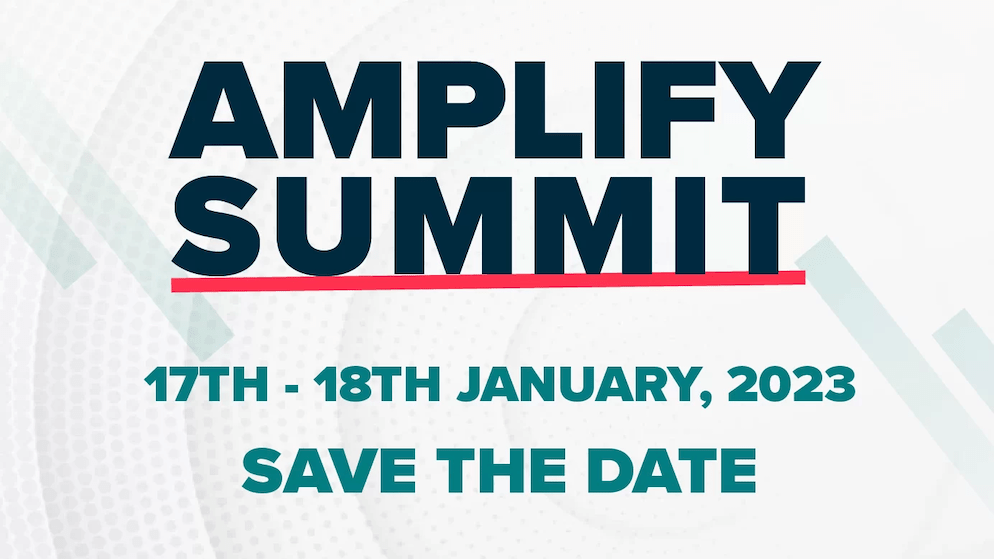 Without any exaggerations whatsoever, we can confidently say that the AMPLIFY Affiliate & Digital Marketing Summit is one, if not the most important virtual summit that you must attend.
The reason why many affiliates consider this event essential is that it presents one of the best ways to learn priceless methods and skills that can help you boost your performance and increase your sales regardless of the industry you are operating in.
In order to give you a perspective of the magnitude of this event, the virtual AMPLIFY Affiliate & Digital Marketing Summit is so big, that last year's summit sold out one week ahead of schedule, which is absolutely amazing.
Shortly put, AMPLIFY is all about sharpening your skills and broadening your insights. In fact, the entire event was created with the sole purpose of helping you start the upcoming 2023 with the single goal to assist you to implement the right strategy to grow your affiliate program.
And what better way to do so than by learning from companies and individuals who manage revenue for million-dollar enterprises? Thanks to the use of world-renowned performance marketing programs, now you can do the same!
Consequently, the AMPLIFY Affiliate Digital & Marketing Summit is all bout:
Learning from leading industry experts who will personally show you what strategies, tools, and tactics you can use in order to be even more competitive in your field.
Get access to Practical help that can help you grow your affiliate program in 2023.
Live networking with a plethora of peers and colleagues from your respective industry, ranging from affiliate managers to affiliates, digital and SaaS executives, digital marketers, Agency owners, and Affiliate Network employees.
Learn and implement new and emerging trends from the best in the business.
Exclusive access to Affiliate Insider's FREE Affiliate Manager Toolkit that will save you both time and money, as well as help you manage your program with 100% efficiency, and consequently get more sales.
In other words, the AMPLIFY Affiliate Digital & Market Summit is the best way to start the year. The reason why Affiliate Insider holds these virtual events exclusively at the beginning of the year is for the purpose of helping you start the new year with new ideas, knowledge, and just the right connections to elevate your affiliate program to the next level.
Time: 17-18 January – 5 pm