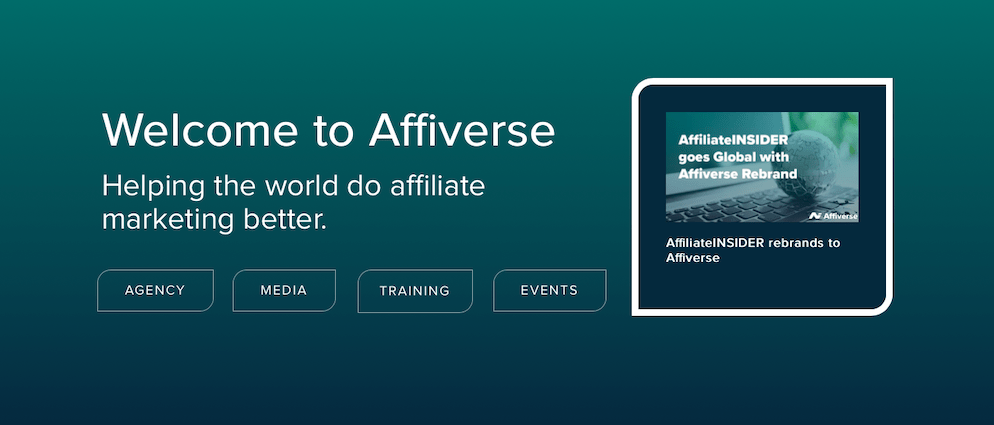 There is no need to further explain who and what the name AffiliateInsider means to the world of iGaming. Everyone from affiliates to CEOs and casino players knows that AffiliateInsider is one of the biggest and most important iGaming affiliate brands on the planet. Well, this behemoth of a company that is AffiliateInsider has recently rebranded and transcended into a completely new project with the same values – the Affiverse.
We felt it was time to represent the growth of our business and make clear what we do and who we serve through the three core principles of our service offering. Our new brand

Affiverse reflects who we are and where we're heading as our Media platform reaches more than 850,000 unique impressions a month via our web, podcast and extended social reach as our community keeps growing!

Lee-Ann Johnstone – Founder & CEO of Affiverse
The reason why AffiliateInsider decided to rebrand its already well-known name is quite simple. Growth. Due to the exponential growth of the brand that is AffiliateInsider as one of the leading marketing agencies, media houses, iGaming event planners, and training companies in the world, the company decided to go for a name that is more synonymous with its global presence and services. Hence, the Affiverse.
Needless to say, any rebranding is always a tricky endeavour, especially for a company with such an established pedigree and a familiar brand name such as AffiliateInsdier. However, this just speaks volumes of the bold nature of Affilverse and its dedication to conquering the world of iGaming affiliates regardless of what it takes.
And it was only appropriate for Affiverse to take this next step, being that their company currently covers affiliate marketing growth and development in a plethora of industries and verticals. This includes everything from iGaming to SaaS and eCommerce, becoming a leading and highly regarded brand for advice relating to program management tactics and affiliate marketing.
Our award-winning Agency (OPM) offers a variety of program management support and helps brands launch, scale and grow their affiliate programs.

Our Training and Events connect brands to publishers, agencies and martech suppliers to new business leads and affiliate managers to understand how they can grow their affiliate programs successfully.

Lee-Ann Johnstone – Founder & CEO of Affiverse
The rebranding of AffiliateInsider doesn't mean that its mission is changed. Quite the contrary. The goal for Affiverse remains undeterred, and that is helping the world do affiliate and performance marketing better via education, the sharing of information, and enlightenment, in order to ensure that affiliate and performance marketing never stop growing and improving.
Thanks to Affiverse, today, this is more possible than ever before. The rebranding into Affiverse entails a new chapter in the success story of AffiliateInsider up to this point. It symbolizes new beginnings and growth, and it stands as a symbol of its global influence as an affiliate agency, media partner, and training business.
The Affilverse Agency – created to help brands launch, scale, and grow their affiliate program.
Affiverse Media & Podcast – help businesses, agencies, martech, and affiliate networks connect to their customers. It even helps new affiliate programs to find the right publishers!
Affiverse Training + Events – help you learn how to improve, amplify, and elevate your affiliate revenue and performance.
Or as the ingenious motto of Affiverse says: Affiliate Marketing, made simple.
Our Training and Events connect brands to publishers, agencies and martech suppliers to new business leads and affiliate managers to understand how they can grow their affiliate programs successfully.

In short – we serve affiliates and affiliate marketers across all industry sectors and throughout the entire partnership economy as we move forward to Web3.0.

Lee-Ann Johnstone – Founder & CEO of Affiverse